PRS Guitars and Mark Lettieri Team Up for Limited Edition Artist Pop-Up Shop
Posted Jun 23, 2022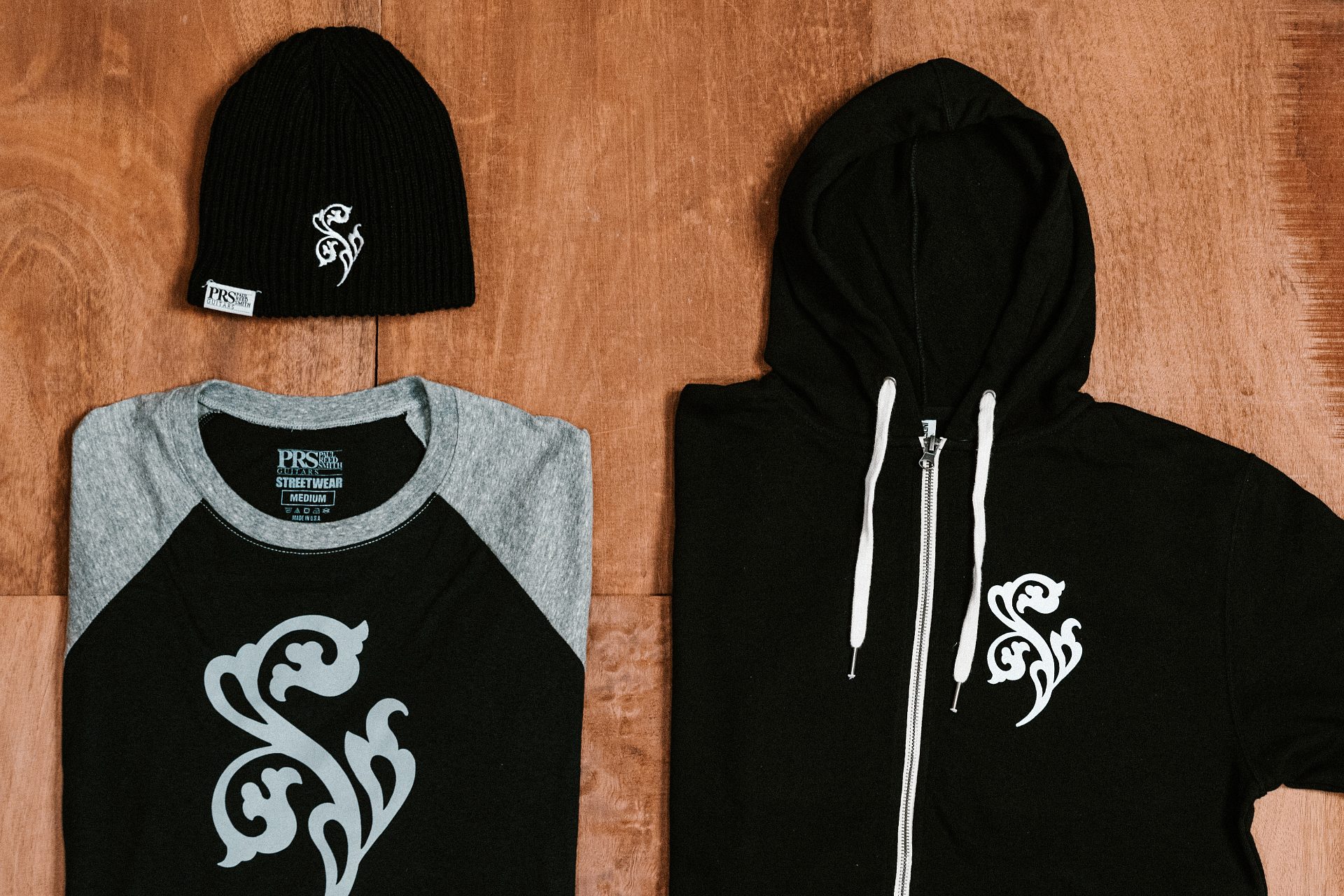 PRS Guitars and Mark Lettieri Team Up for Limited Edition Artist Pop-Up Shop
(STEVENSVILLE, MD) June 23, 2022 – PRS Guitars has opened a pop-up shop in their online accessories store in partnership with PRS signature artist Mark Lettieri. The store includes three limited-edition Fiore apparel designs as well as a selection of PRS accessories hand-picked by Lettieri.
PRS Fiore Designs
Three unique apparel items are offered within the pop-up shop, including a full-zip hoodie, a raglan tee, and a knitted beanie. Each item showcases the Fiore "flower" logo, which is featured on the Fiore model's truss rod cover and was designed by Lettieri's very own mother.
Artist-Curated PRS Accessories
Also included in the pop-up shop is a selection of PRS Accessories hand-picked by Lettieri, including the popular PRS Guitars Rechargeable Clip-On Tuner, the PRS Guitars Care Kit, PRS Signature Cables, and the same strings that ship on PRS Fiore model: PRS Signature 10-46 Strings.
The pop-up shop launched today, June 23, 2022, and will remain open while inventory of the Fiore designs last. To shop the PRS Guitars Fiore Pop-Up Shop, go to the PRS West Street East Online Store:
In the USA: https://us.prsaccessories.com/
In Europe: https://eu.prsaccessories.com/
In the UK: https://uk.prsaccessories.com/
The PRS Fiore was introduced in January 2021. Its swamp ash body, 25.5" scale length neck with maple fretboard, and single/single/hum pickup configuration have made the PRS Fiore a unique model for PRS Guitars. For more information on Mark Lettieri's signature guitar, the PRS Fiore, go to https://prsguitars.com/electrics/model/fiore_2022
About PRS Guitars:
Paul Reed Smith Guitars is a leading manufacturer of high-quality instruments in Stevensville, Maryland and has provided some of the world's most renowned musicians with instruments since 1985. The PRS team of highly skilled craftspeople design and build a wide variety of musical instruments and gear for worldwide distribution, including electric, acoustic, and bass guitars as well as boutique-style guitar amplifiers. The PRS SE line of products complements the Maryland-made PRS line by offering highly approachable and more affordable electric, acoustic, and bass guitars. Carlos Santana, Mark Tremonti, John Mayer, Neal Schon, Jimmy Herring, Zach Myers, Mark Holcomb, Tim Pierce, Tyler Larson, Orianthi, David Grissom, Mark Lettieri, and Martin Simpson are among the artists currently playing PRS instruments and/or amplifiers.
PRS Guitars Info: www.prsguitars.com
###
Images:
Suggested Social posts: Shop the @PRSGuitars x @mjlettieri Fiore Pop-Up Shop for exclusive Fiore merch! https://bit.ly/3zYYQxx