PRS Guitars New SE Factory Tour Video Showcases Boutique Import Guitars Go Behind the Scenes to See How PRS Maintains Player-Ready Quality at High-Volume
Posted Sep 16, 2022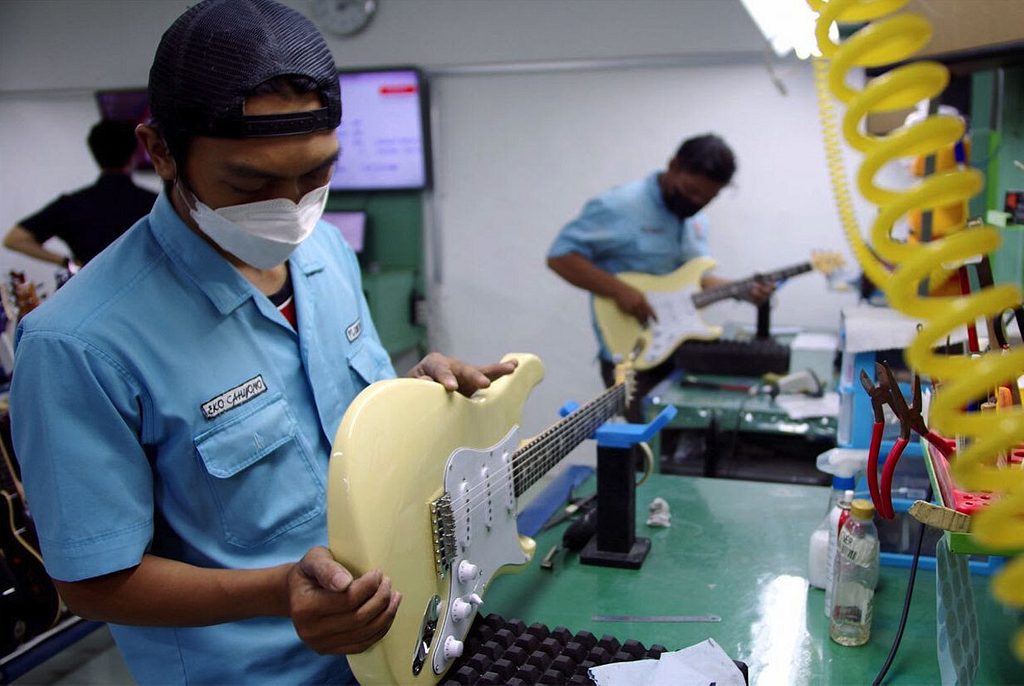 (STEVENSVILLE, MD) September 8, 2022 – PRS Guitars has premiered a new SE Series factory tour videounveiling PT CORT'S all-new dedicated PRS SE Series factory in Indonesia. This new building is ultimately designed to double production capacity of the PRS SE Series with approximately three times the square footage and twice the number of people working solely on PRS SE guitars. The video, featured on PRS Guitars YouTube channel, is hosted by PRS's Chief Operating Officer, Jack Higginbotham, who has been with the company since it started in 1985 and has become increasingly involved in the PRS SE Series in recent years.
The PRS SE Series moved into its first proprietary space in Indonesia in 2018 with the goal of further honing the SE processes, craftmanship, and guitars themselves. That was the first time since the Series introduction in 2001 that PRS had its own building and builders working on the SE Series. With this newer dedicated space, which opened in February of this year, PRS hopes to continue to raise the bar on quality and value, while continuing to increase production.
"The SE Series has grown quickly over the past few years, and we have been incredibly careful to grow the quality and value of the guitars at the same time. We have an amazing partnership with PT Cort which has allowed us to approach the SE guitars from the same point of view as our USA-made instruments. Through this approach, we have been able to significantly advance the designs and the processes inside the SE Series. At the end of the day, we are excited to bring innovative instruments with sophisticated components into the lineup," said Jack Higginbotham.
Indeed, the PRS SE Series has seen substantial model additions in recent years with the SE Paul's Guitar, SE Custom 24-08, SE Hollowbody II Piezo (made at Cort's sister factory in China), and most recently the SE Silver Sky(John Mayer's signature model). As PRS has released new models, they have also been increasingly transparent with their product development and manufacturing processes.
"As a guitar player and consumer, I don't see a lot of transparency in the import guitar business, and we have never wanted the SE Series to be that way. From day one, we have always shared the pride and accountability with our overseas partners," said Higginbotham. "We're very proud of the relationship we've built with PT Cort on every level. We're all dedicating a significant amount of time and energy into building the best guitars we can, and we wanted to convey that care and dedication, in part, with this video."
If the early comments are any indication, that sentiment is appreciated. As one early comment says, "I love the idea of a company showing us everything within their factories abroad. PRS never had any shame of it because they know their product is good. Which other company does that? Take some notes everyone else."
The PRS SE Series began in 2001 after Carlos Santana expressed his desire to have a more affordable signature guitar model that his younger fans could access. Twenty-one years later, with the release of the SE Silver Sky, John Mayer said, "the SE [Silver Sky] really brings the same experience of being a guitar player that I have to someone who just started playing for the first time…and that is something I take very seriously." And so PRS continues its quest to offer reliable, versatile, and musical guitars at every level.
Watch the new video here and be sure to subscribe to PRS Guitars YouTube channel and follow @prsguitars on socials to keep the video content coming.
About PRS Guitars:
Paul Reed Smith Guitars is a leading manufacturer of high-quality instruments in Stevensville, Maryland and has provided some of the world's most renowned musicians with instruments since 1985. The PRS team of highly skilled craftspeople design and build a wide variety of musical instruments and gear for worldwide distribution, including electric, acoustic, and bass guitars as well as boutique-style guitar amplifiers and effects pedals. The PRS SE Series complements the Maryland-made PRS line by offering highly approachable and more affordable electric, acoustic, and bass guitars. Carlos Santana, Mark Tremonti, John Mayer, Jimmy Herring, Myles Kennedy, Zach Myers, Mark Holcomb, Tim Pierce, Orianthi, David Grissom, Mark Lettieri, and Rhonda Smith are among the artists currently playing PRS instruments and/or amplifiers.
PRS Guitars Info: www.prsguitars.com
###
ASSETS
Images: https://www.dropbox.com/sh/o80igpxilayp178/AADhZyPzirXN7S2NKpQt0-b7a?dl=0
Full-length Video: https://www.youtube.com/watch?v=LuEYe5HMyAM
Social Asset Video (short or reel): https://www.youtube.com/shorts/KsCJ5tzr4A0
CONTACT INFORMATION
PRS GUITARS CONTACT:
Judy Schaefer, Director of Marketing | [email protected]
PRS GUITARS EUROPE CONTACT:
SJ Morgan, Marketing | [email protected]
PRS GUITARS JAPAN CONTACT:
Jiro Koyama, | [email protected]