PRS Guitars SE Series Acoustics to Feature NEW PRS-Voiced Fishman Sonitone Pickup
Posted Jan 11, 2022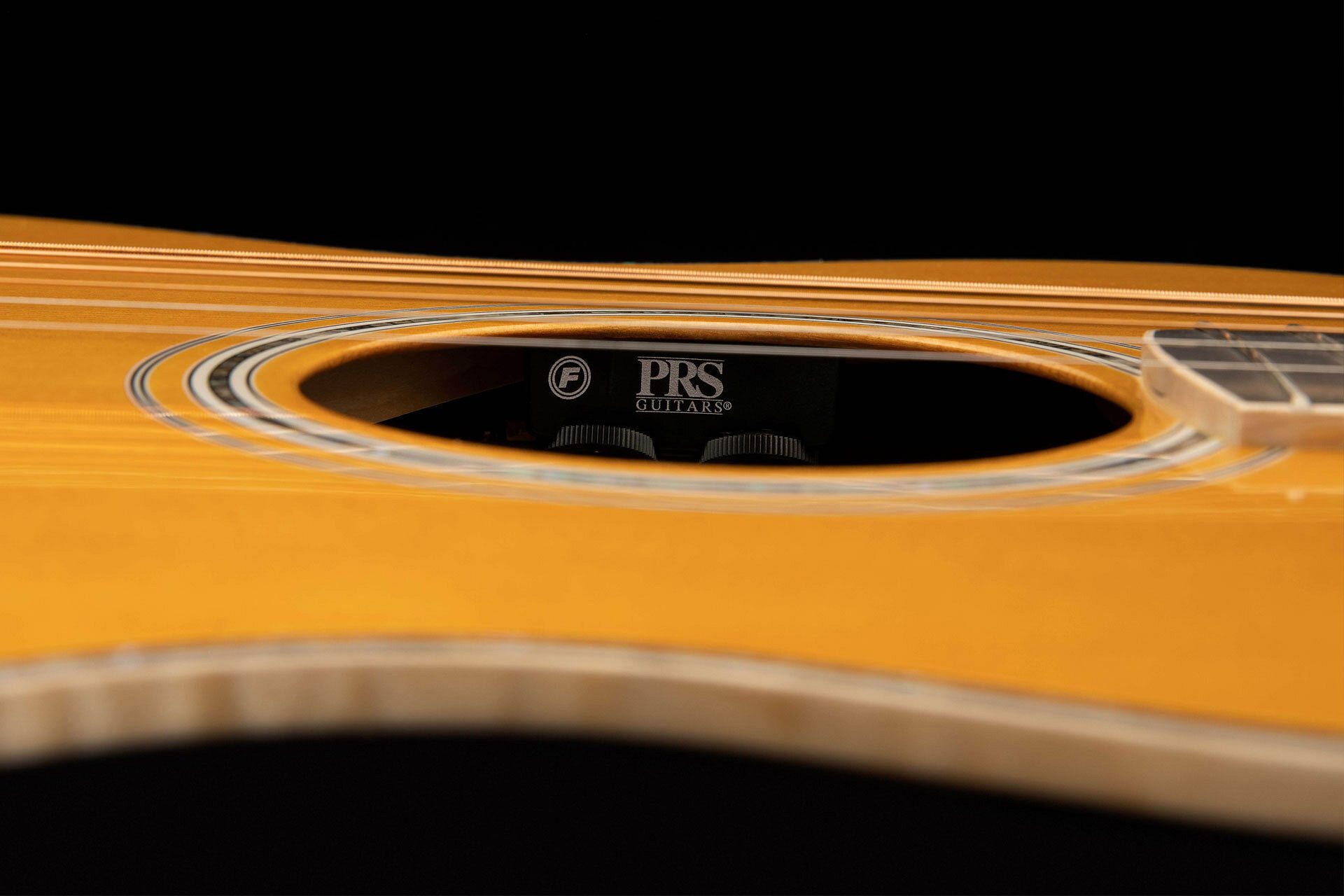 (STEVENSVILLE, MD) January 13, 2022 – PRS Guitars is pleased to announce an updated voice for the pickup system found in its PRS SE Series acoustic models. EQ'd in Paul Reed Smith's studio and implemented by Larry Fishman and his engineering team, the PRS-Voiced Fishman Sonitone Pickup provides players with a warm, organic tone that allows the natural sound of the instrument to come through.
"The EQ in this pickup system sounds like you mic'd the guitar," said Paul Reed Smith. "It's very musical. Everyone here is pleased with the sound."
PRS acoustics have a unique voice, thanks largely to PRS's hybrid X/Classical bracing. This bracing pattern features a traditional "X" brace at the soundhole and classical fan bracing across the belly, while the back and sides are "locked down" (akin to a speaker cabinet). This allows the top to more freely vibrate, and the instrument's voice to project boldly and clearly. The exclusive EQ of the PRS-Voice Fishman Sonitone Pickup allows this voice to come through naturally, so players can move seamlessly between writing, recording, and performing live.
The PRS SE Series acoustic line features three body styles: Angelus Cutaway, Tonare Grand, and Tonare Parlor. Angelus (Latin for angel) models feature a cutaway body shape while the Tonare (Latin for thunder) comes in two sizes: a "OOO" and a parlor. These shapes provide comfort and a familiar feel for players of multiple styles. Each body shape is offered with select tone woods, with spruce, mahogany, ovangkol, maple, and ziricote woods all represented. Other high-quality specifications include solid wood tops, ebony fretboards and bridges, and bone nuts and saddles. All PRS SE acoustics ship with either a hardshell case or gigbag included.
For full instrument details and to hear PRS SE acoustics and the new PRS-Voiced Fishman Sonitone, please visit https://prsguitars.com/. Join the conversation with @prsguitars on Instagram, Facebook, Twitter, and YouTube to never miss an update.
About PRS Guitars:
Paul Reed Smith Guitars is a leading manufacturer of high-quality instruments in Stevensville, Maryland and has provided some of the world's most renowned musicians with instruments since 1985. The PRS team of highly skilled craftspeople design and build a wide variety of musical instruments and gear for worldwide distribution, including electric, acoustic, and bass guitars as well as boutique-style guitar amplifiers. The PRS SE line of products complements the Maryland-made PRS line by offering highly approachable and more affordable electric, acoustic, and bass guitars. Carlos Santana, Mark Tremonti, John Mayer, Neal Schon, Jimmy Herring, Zach Myers, Mark Holcomb, Tim Pierce, Tyler Larson, Orianthi, David Grissom, Mark Lettieri, and Martin Simpson are among the artists currently playing PRS instruments and/or amplifiers.
PRS Guitars Info: www.prsguitars.com