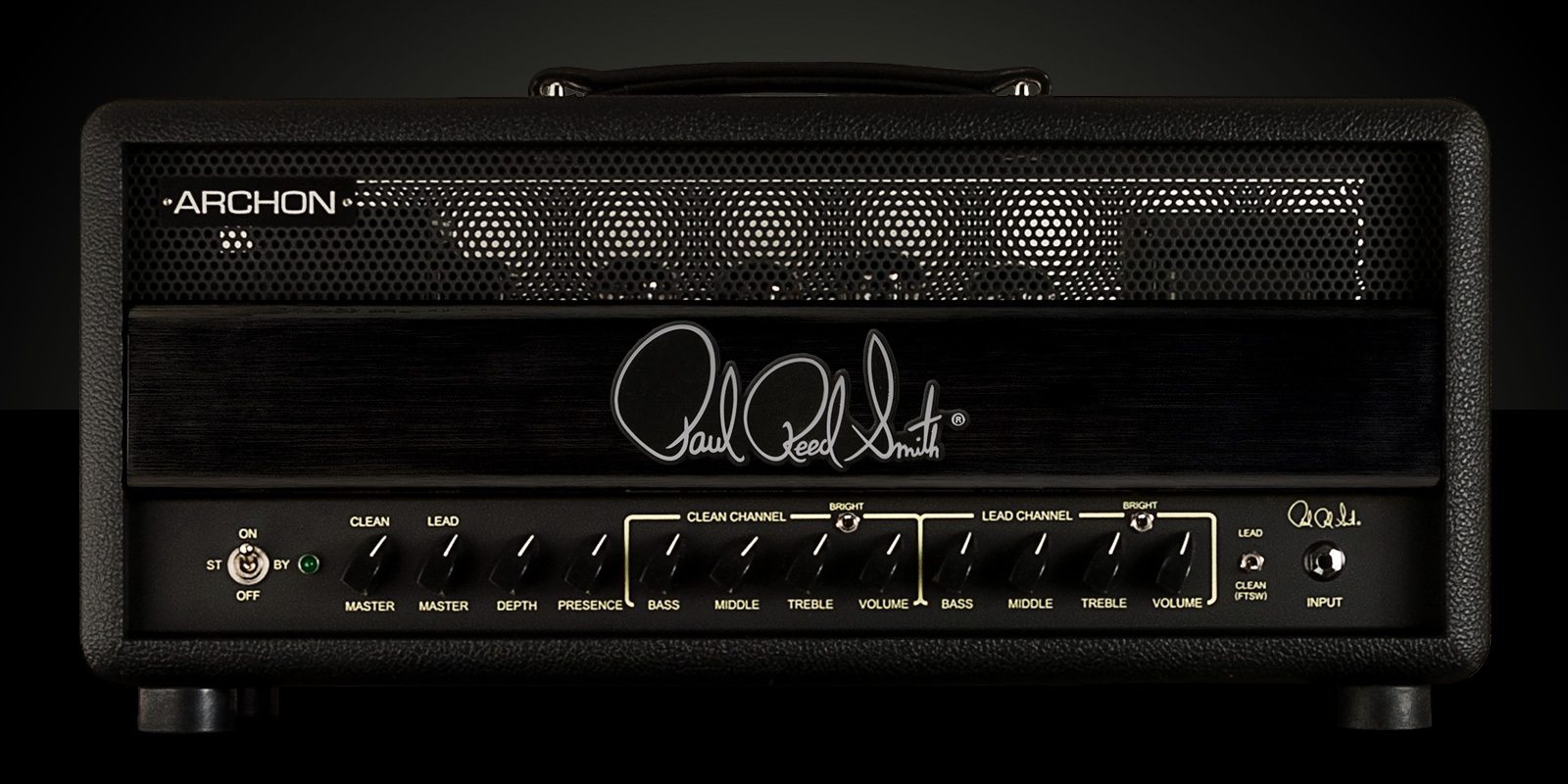 High-Gain Heavyweight
Greek for "ruler" or "lord," the PRS Archon is a commanding and versatile 2-channel amp with aggressive overdriven tones and sparkling cleans with plenty of headroom. The Archon's lead channel was designed with five gain stages before the master volume, delivering full, lush distortion. The clean channel provides ample headroom with rich clear tones that retain clarity even at high volume and are an excellent platform for pedals. The Archon has remarkably responsive tone with incredible note separation, whether you're playing on the clean channel or chugging on the lead.
6L6 tubes offer plenty of versatility and warmer, more balanced tone across the full range of frequencies. They will also push with less saturation for a bit of a sweeter, smoother tone.
Utilizing a 'no flash or trash' approach, the Archon's control layout features volume and tone controls for each channel, a global depth control to add a thunderous low end, and a presence control to effect the high end chime. A half-power switch allows players to choose either 100 or 50 watts of output adding to the Archon's extreme flexibility.
Specifications
Electronics
Wattage
100
Tubes
Power Tubes
(4) 6L6GC
Preamp Tubes
(6) 12AX7
Front Panel Controls
Lead Channel
Bass, Middle, Treble, Bright Switch, Volume
Clean Channel
Master Volume, Bass, Middle, Treble, Bright Switch, Volume
Global Controls
Depth, Presence
Back Panel Features
Inlet
Fused Power Inlet (IEC)
Effects Loop
Loop Return, Loop Send
Extension Speaker Jacks
2, Parallel
Output Power Switch
100/50 Watt Half Power Switch
Ohm Switching
4, 8, 16 Ohms
Bias
Fixed Bias, Adjustable (bias jacks accessible from back panel)
Hardware
Cabinet Material / Construction
Birch Plywood, Fingerjoint
Covering
Stealth
Panel
Anodized Aluminum
Handle
Stitched Black Faux Leather
Measurements
Amp Width
21.5" (54.61 cm)
Amp Depth
10.5" (26.67 cm)
Amp Height
10" (25.4 cm)
Amp Weight
43 lbs. (19.5 kg)
Preamp Tube Positions & Functions

V1
12AX7, Common Input
V2
12AX7, Lead
V3
12AX7, Lead
V4
12AX7, Clean
V5
12AX7, Phase Inverter
V6
12AX7, Effects Loop
Accolades
"Everybody owes it to themself to plug into this amp. This is a do-it-all, standalone amplifier."
- Mark Tremonti
"Finding the right amp can be a life-long journey. There always seems to be an imperfection in design covered up by excess features. For the multi-genre player, It is nearly impossible to find one amp for all styles until now. The ARCHON delivers the best clean and dirty channels I've ever heard in one amp. Finally, I get to just plug in and play."
- Emil Werstler
"For bands with one guitarist, sometimes finding the fullness from the layered tracks on your record can be a pain live. You'll always be looking for that blend of amp heads or guitar pedals to replicate that perfect tone. Paul Reed Smith's Archon is finally an amp head that can achieve that, and with so many options, you aren't limited to one particular sound. This amp does it all from crystal clear cleans to raw heaviness; it caters to the needs of literally any type of player. PRS really knocked it out of the park with this one! It's definitely found a permanent place in my live rig!"
- Ryan Johnson, The Chuck Shaffer Picture Show
"The Archon delivers a crystal clear clean tone at an unbelievable volume! On stage, I crank the master and dial in the pre-amp for a punchy sound that is responsive to every note with extreme clarity. It's perfect for allowing my pedals to color the tone while maintaining an unparalleled richness and sparkle without any break-up from the amp"
- Donna Grantis, Prince & 3RDEYEGIRL
"The Archon has one of biggest tonal spectrums of any amp I've ever used. For distorted or clean tones this is an amp I will keep in my arsenal forever."
- Trevor Young, SOJA
"The Archon is a real exciting amp. Whether you need a nice bell like clean, rock crunch or a super saturated metal tone, it can do it all. Not to mention that it's as pretty as any PRS guitar!"
- Dustie Waring, Between the Buried & Me
"Great sounding amp!! Beefy cross between a Marshall and a Mesa. Really nice design job by Doug and your amp folks!! Lovin it!"
- Tom Johnston, Doobie Bros.
"If you're looking for an amp that has a very distinct voice and is basically idiot-proof in terms of settings, then the PRS Archon is where it's at."
"I really enjoy playing the amp. Not many amps have that warm punchy gain."
- Fredrik Akesson, Opeth