Celebrating Together // The Annual PRS Employee Award Ceremony
Posted Dec 15, 2021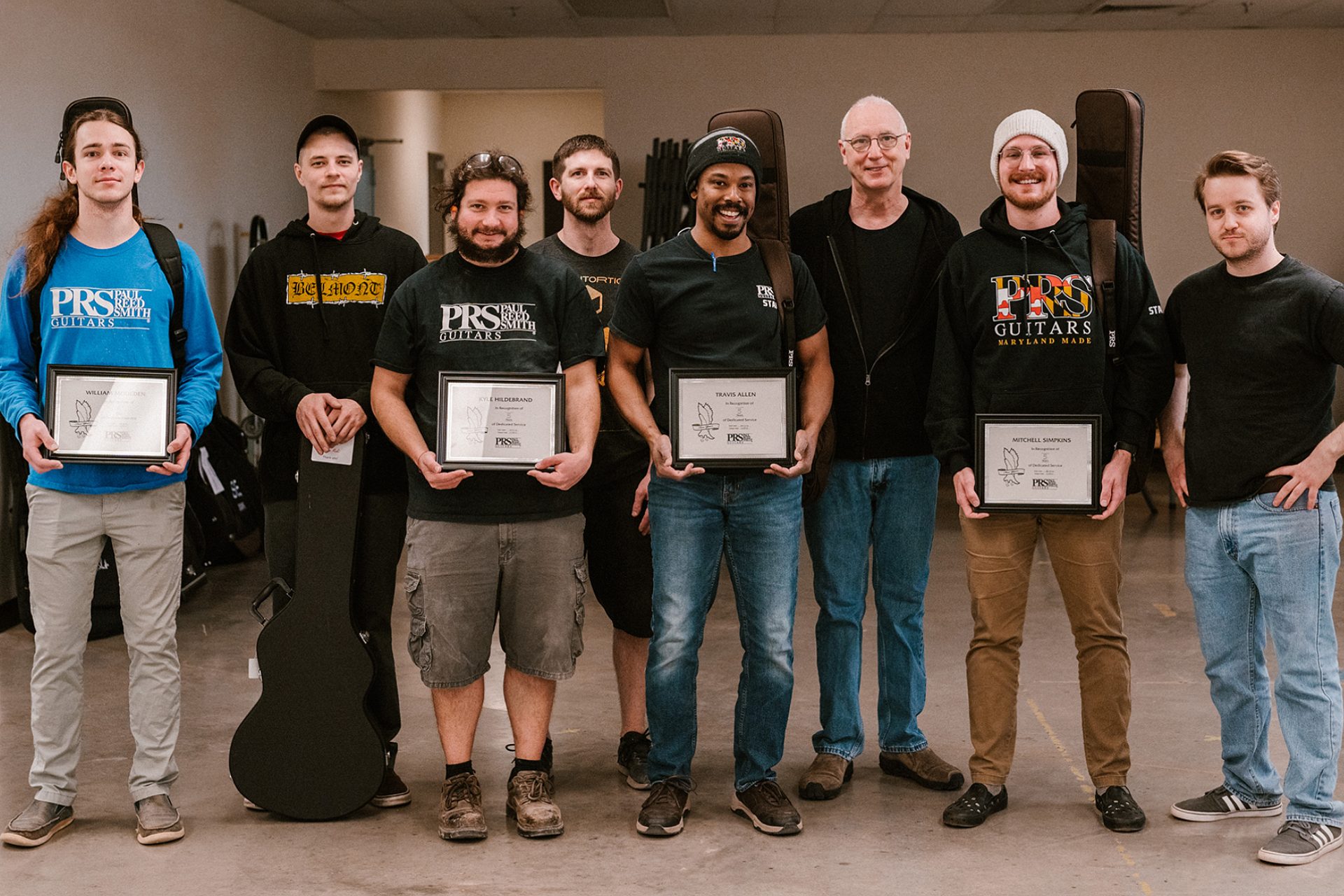 Getting together to celebrate as a team is woven into the fabric of our company history. In 1985, Paul organized "daily production meetings" and these types of gatherings continued in evolving forms as our company grew. The past two years have made it a challenge to gather as a large group as we weathered the pandemic, but we've always found a way to celebrate.
One of our favorite ways to celebrate is the annual PRS Employee Award Ceremony where Paul and our leadership team express extra gratitude for a job well done at the close of our year. During this time we hand out Time in Service Awards and Perfect Attendance awards to employees.
To learn more about the history of our Award Ceremony and share a few other ways we enjoy the holidays together, we interviewed our Director of HR, Christie Woodard.

PRS: When did the annual PRS Employee Award Ceremony begin?
Christie: I started at PRS 25 years ago, and we did '5-year awards' before I started working here. I believe the first 'official' PRS awards ceremony - as it is in its current form - began around 2003.
PRS: In a typical year, what does the award ceremony look like and what types of awards are handed out?
Christie: We give awards for perfect attendance (between 1 and 20 years) as well as Time in Service Awards. 5 year Time in Service awards are currently a plaque and your choice of an SE Guitar. Back when I hit my 5 years, it was a very stylish (then but not now) leather jacket!
Other Time in Service awards – 10, 15, 20, 25, 30, and 35 years (so far!) – consist of a commemorative plaque and a cash gift.

PRS: Who is the recipient of the longest Time in Service award? How about perfect attendance, who holds the record for that?
Christie: The first 35-year Time In Service awards were given out in 2020 – our 35th year! Geoff Jacobsen (Director of Information Systems) and Jack Higginbotham (Chief Operating Officer) are our longest standing employees, other than Paul Reed Smith of course. For perfect attendance, this year Herman from the Neck Team received an award for 20 years of perfect attendance!

PRS: What other types of events are employees participating in around the holidays?

Christie: This year we'll have an Ugly Holiday Outfit Day, a Toys for Tots collection drive, and of course our popular PRS Annual Children's Holiday Party. A bit earlier in November, we also host an Employee Art Show where our talented employees show and sell their wares and their co-workers can holiday shop and support their art!
PRS: Tell us more about the Children's Holiday Party.
Christie: The party is held each year for children and grandchildren of PRS employees. We ask the parents or grandparents to provide gift ideas for their child. PRS then orders all the gifts (117 this year!), and then we start wrapping. Employees help with gift wrapping and on the big day Paul Reed Smith dons his Santa suit and other employee volunteers dress as various other holiday characters (this year The Grinch, Doc McStuffins, and Olaf), and we hand out gifts to the children. Since 2020, we have held the event as a drive thru due to COVID. It's a blast!