Meet our 2023 Fall Accessories!
Posted Oct 30, 2023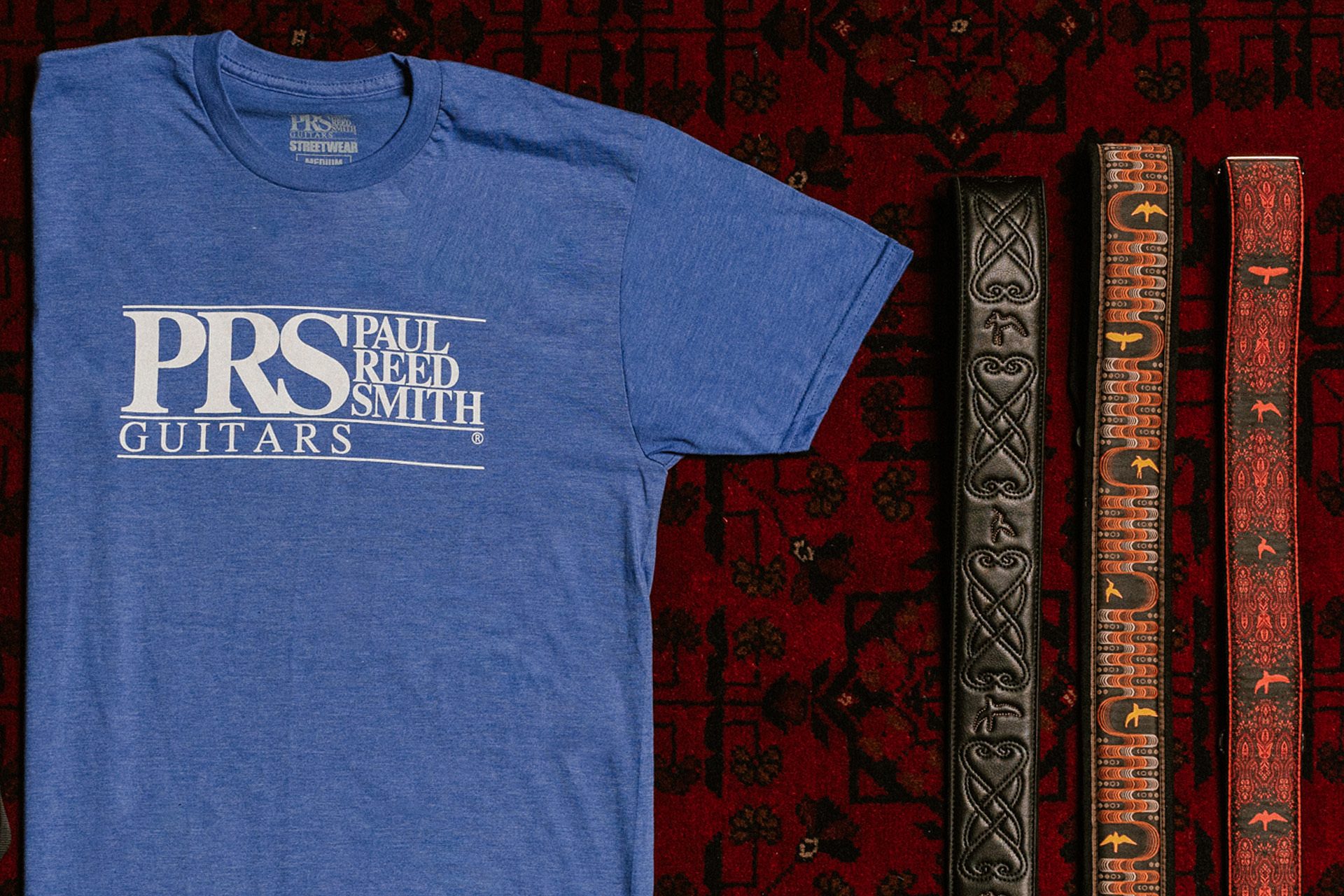 Our 2023 fall collection of PRS accessories is here! From straps to apparel to limited edition holiday items, we have several new designs that we're excited to show you. Take a look at the full collection below or visit our West St East online store to shop all PRS accessories.
2.4" Padded Guitar Strap // Custom Jacquard Birds Wavelength
Designed with retro style and modern comfort, this strap is the ideal companion for your PRS guitar. Adjusting the height of your guitar on the fly is easy with the Fast Length Adjustment System Harness (FLASH). The padded guitar strap, featuring custom Jacquard fabric woven into waves like the sound of music. Also adorned with PRS's trademark birds.
2.4" Padded Guitar Strap // Custom Faux Leather Birds
Vintage appeal and modern materials with comfort built in. These straps feature embroidered, weaving designs of PRS's trademark birds and include the RightOn! Adjustment System (RAS). This adjustment system allows for hassle-free length modification - simply slide the back part of the strap up or down and tighten two screws to achieve the perfect adjustment. Once you have the strap at your perfect length, it will stay securely in place so you don't have to worry about it loosening over time or slipping while you play.
2" Guitar Strap // Custom Jacquard Birds Fleur
A classic fleur-style tapestry embedded into our Jacquard strap adorned with PRS's trademark birds. A standout accessory on stage and eye catching in the studio, this strap is the ideal companion for your PRS guitar.
PRS Classic Block Logo Tee NEW COLOR: Heather Blue
The original PRS tee featuring our classic block logo.
PRS Barefoot Button 3-pack Limited Edition, 500 Pieces
Make your move quicker and with distinction by adding the PRS Barefoot Button to your favorite pedals on the board. This pack of Barefoot Buttons includes three different colored buttons each adorned with their own PRS trademark bird.
PRS Pint Glass & Strings Limited Edition Gift Pack, 1,000 Pieces
Pour your favorite beverage into a PRS pint glass while getting your new PRS Signature strings on your guitar. Smooth sips with a clear sound that rings true. The perfect gift for yourself or guitar lover in your life.
PRS Private Stock Calendar 2024
The PRS Private Stock Calendar, released annually, is always adored by fans and serves as a perfect gift for the guitar aficionado in your life. This 13-month calendar features an artistic shot and a full guitar photograph for every month.
PRS Ornament – NF 53 in McCarty Tobacco Sunburst
For your holiday tree, car's rearview mirror, or the wall in your music room, the PRS NF 53 ornament presents all the details of the actual model in a miniaturized form! PRS NF 53 custom guitar ornaments are individually handcrafted from solid wood. These ornaments are approximately 6" long.