Meet our 2023 Spring Accessories!
Posted May 16, 2023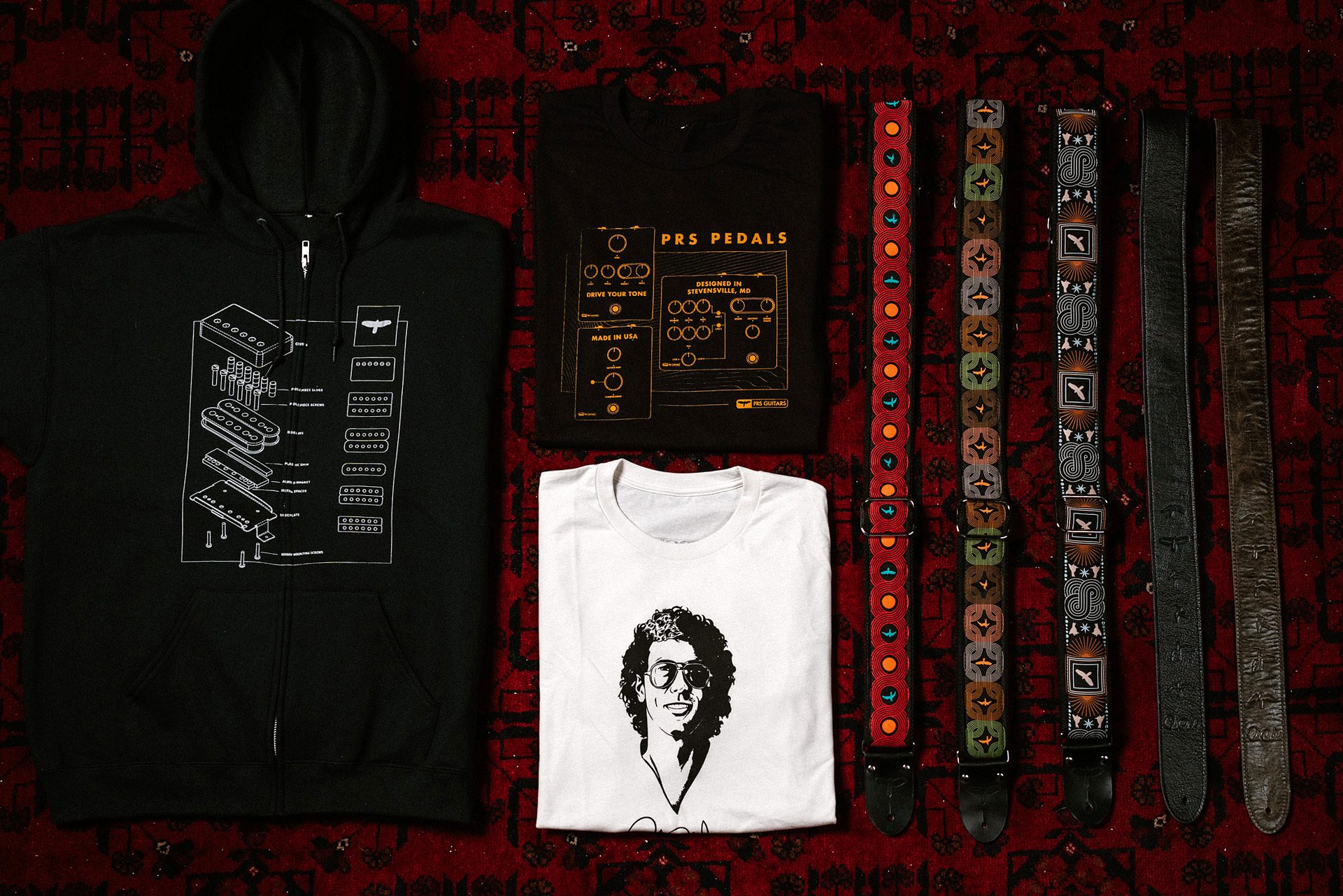 Our 2023 spring collection of PRS accessories are here! From straps to apparel, we have a few new designs that we're excited to show you. Take a look at the full collection below or visit our West St East online store to shop all PRS accessories.
2" PRS Leather Strap // Embossed Birds
Show your love for PRS and experience the timeless look and feel of our embossed bird leather strap. Made from Italian garment leather, this strap is designed to provide both comfort and style.
Black // Worn Black
2" PRS Deluxe Retro Strap // Custom Jacquard
Add a pop of color to your performance and stand out on stage with this Deluxe Retro Strap, featuring custom jacquard fabric adorned with PRS's trademark birds. Designed with retro style and modern comfort, this strap is the ideal companion for your PRS guitar.
Blue Birds // Orange Birds // Beige Birds
PRS Exploded Pickup Hoodie // Full Zip
Stay warm and show your love for PRS tone with this full-zip, unisex exploded pickup hoodie. Made from a cozy blend of materials, this hoodie is perfect for cool evenings.
PRS Pedal Hoodie // Pullover
Show your love for PRS pedals with this pullover, unisex hoodie. Featuring PRS pedal designs, this hoodie features a "kangaroo" front pocket design and drawstring neck to keep you warm on chilly nights.
PRS Exploded Pickup Tee
Celebrate the craftsmanship behind PRS pickups with this unique exploded pickup tee. Made of 100% cotton, this comfortable black shirt is perfect for fans of PRS guitar tone and engineering.
PRS Pedal Tee

For players who love their gear, show your pride with this stylish, lightweight black tee. Featuring PRS effects pedal designs printed in gold, this shirt is sure to start a conversation when you step off stage.
PRS DGT Tee
Celebrate the legendary DGT (David Grissom Tremolo signature model) with this guitar lover's tee. Made from 100% cotton, this comfortable black shirt features the DGT's electronics control options in a gold design. IYKYK.
Paul Reed Smith Aviator Tee
The man, the myth, the legend in all his glory. Rock the iconic image of Paul Reed Smith wearing aviators and sporting his signature curls circa 1993.
PRS Reusable Water Bottle // Birds Swarm
Stay hydrated on the go with our sleek PRS reusable water bottle. Featuring a striking black design with our signature bird swarm, this double-walled 18/8 stainless steel thermal bottle keeps cold drinks cold and hot drinks hot, so you can quench your thirst while showing off your love for PRS guitars.
We can't wait to see you rocking the latest PRS styles!