Meet the New PRS Pedal Lineup!
Posted Sep 29, 2022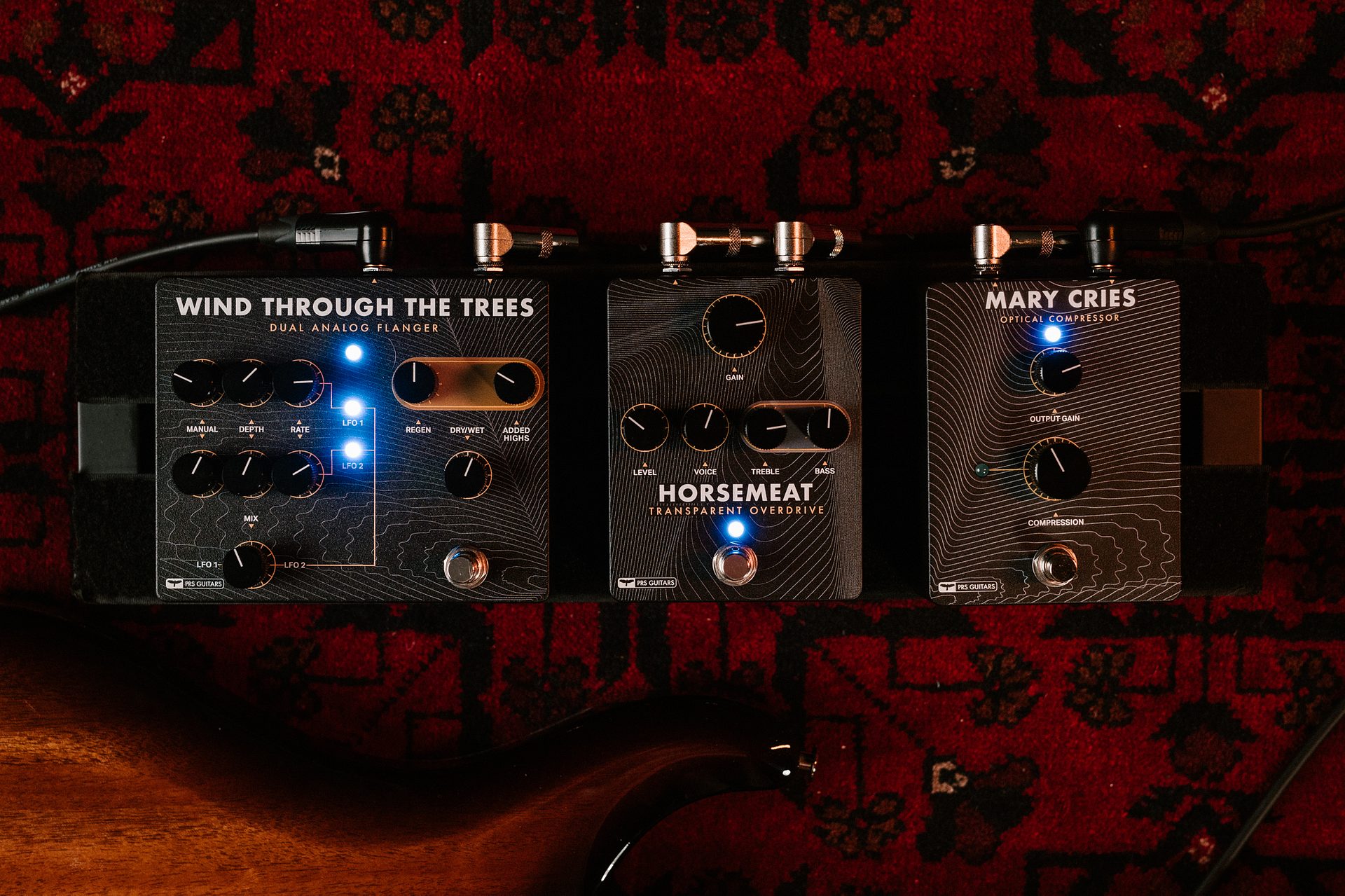 Our secret is out: PRS pedals are here. After many months of careful research, prototyping, and guitar playing - we're excited to introduce you to three special stompboxes: Horsemeat, Mary Cries, and Wind Through The Trees. Each pedal was meticulously designed by us and made in the USA to be high-end pieces of audio gear, in the studio or out on the road.

Watch Paul Reed Smith discuss each of our new pedals in the video below:
HORSEMEAT

Transparent Overdrive
We developed the Horsemeat transparent overdrive pedal to enhance your sound without coloring your tone. Horsemeat adds harmonic midrange richness and overdrives without cutting out your high notes – all while giving you more available headroom. It features a robust EQ section so you can dial in your tone and has a wide range of gain on tap. Depending on the setting, Horsemeat can be used as a clean boost, straight overdrive, or even enhance your amplifier's distortion by slightly pushing the front end of the amplifier's preamp section.

"I've tried just about everyone's take on the mythical gold pedal that costs more than my first car did, but the Horsemeat is the first to really live up to the hype. Silky smooth overdrive with a very tweakable EQ section. It's magical!" - Ben Eller

"Horsemeat is a game changer. It adds exactly the right textures I want from an overdrive pedal without taking away the tone and clarity I want to get out of my instrument and my fingers." - Eric Krasno

--

MARY CRIES
Optical Compressor
The Mary Cries optical compressor pedal is intuitive and sounds incredible. Based on the storied LA-2A, Mary Cries will thicken your tone, help control signal peaks, lengthen sustain, and push your tone without losing definition or clarity. Depending on your settings, it can be used as a boost as well as a straightforward compressor.

"I can be snobby when it comes to compressor pedals. Compressor pedals with only a few controls scare me as they can often squeeze too much too quickly. Mary Cries doesn't do that and reacts to my playing in a musical way. I actually liked using it as a clean boost with a touch of compression!" - Corey Congilio

"A good compression pedal is one of the most crucial components to my pedal board but often overlooked because it's not nearly as sexy as a crazy delay or wild octave shifter. The new PRS Mary Cries does a phenomenal job of keeping all the notes and tones from all over my fretboard tight and balanced. For anyone who utilizes compression for fingerpicking or all-over-the-neck-two-hand-tapping, this thing is my new favorite. I really appreciate the blue compression light coming on to show me when and how hard it's working. That feedback is fantastic for knowing when the pedal is digging in. Entirely lovely and a wonderful new addition to my board." - David Knudson

--
WIND THROUGH THE TREES
Dual Analog Flanger
The PRS Wind Through the Trees dual analog flanger pedal is best described as two flangers fighting each other, resulting in a sound reminiscent of the wind whipping through the trees. With Manual, Depth, and Rate controls per flanger as well as global Regeneration and Added Highs, Wind Through the Trees offers nearly endless tonal possibilities. Bottom line, Wind Through the Trees offers hours of fun for any player.

--