Meet The Next Generation: Four PRS Artists Under 18
Posted Oct 07, 2021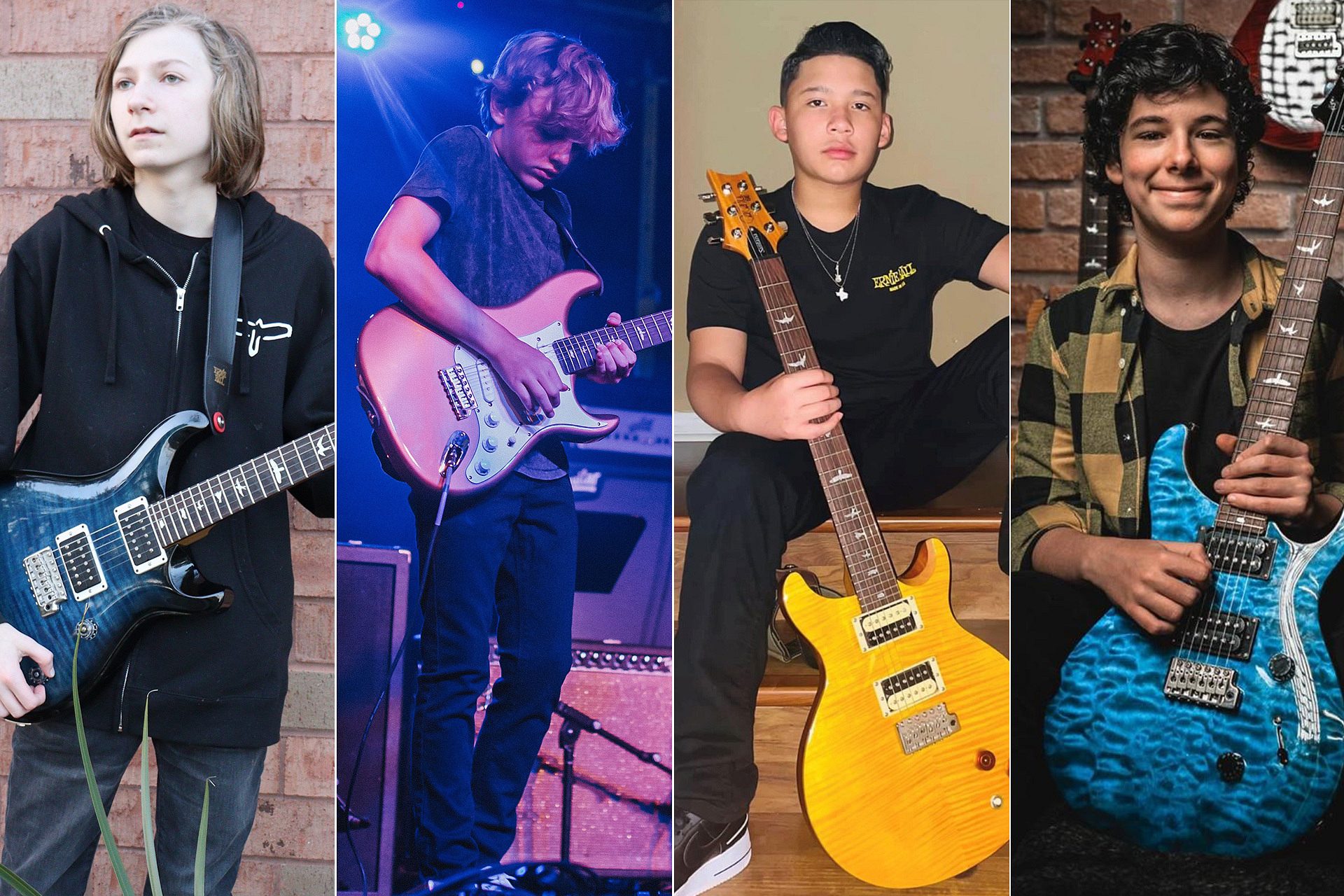 Young musical prodigies are by no means a new phenomenon, yet it's still remarkable how much talent is on display from increasingly younger players these days. It seems there is no shortage of technical, young guitarists that seem to play beyond their years. Recently, several of these young players have entered into the PRS family of artists, check out our brief interview with four of these rising talents below.
Landon Siebens // 16 years old
Hudson Macready // 13 years old
Kane Alvarado // 13 years old
Daniel Fonseca // 15 years old
Q&A

PRS: At what age did you begin playing music and how long was it before you knew you wanted to take it seriously?
Landon Siebens: I've been playing music since I was 6 but didn't pick up the guitar until I was about 8. By the time I switched from piano to guitar, it was all I could really think about. By the time I was 9 or 10, I knew playing guitar and making music was what I wanted to do for a living.
Hudson Macready: I started playing guitar at 8 years old and knew that I loved it immediately.
Kane Alvarado: I started playing guitar at 5 years old. I have always had a passion ever since I picked up my guitar.
Daniel Fonseca: I started playing guitar when I was about 12 years old. It all started when my sister received an acoustic guitar from my grandpa and when I saw it resting by the couch, I took it and started noodling around with it. Back then, I didn't really have any musical inspirations and I didn't know many guitar players, but when I started playing, I got hooked.
I think the moment that made me realize I needed to live and breathe music in my life was when I got my first electric guitar. I fell in love with the sound and versatility of this instrument and spent all my free time playing it, I just couldn't stop. Also, a great source of inspiration was when Kiko Loureiro (former Angra's guitar player and Megadeth's guitarist) started mentoring me.
PRS: Who were the guitarists that initially inspired you to pick up the guitar?
Landon Siebens: I really liked Ozzy Osbourne when I was really little so Zakk Wylde was probably my first real guitar hero. I'd say he was quickly followed by Slash, as his first solo record came out when I was about 5 and he became a big influence. Synyster Gates from Avenged Sevenfold was another guitarist I admired as I really started to learn to play guitar.
Hudson Macready: John Mayer really inspired me to play and dive into guitar. My favorite album is "Where the Light Is". I've listened to it thousands of times and imagined how cool it would be to be sitting in that audience at Nokia Theater. Some of my other favorites are Dave Mathews, Gary Clark Jr and Buddy Guy.
Kane Alvarado: Stevie Ray Vaughan, Carlos Santana, BB King, and Joe Bonamassa.
Daniel Fonseca: I didn't really have any musical inspirations. This might be because the music my family listened to didn't really resonate with me, It hardly featured any glorious guitar solos or any hint of heavy distorted guitar. Over the few years that I have been playing, I have found that Ritchie Blackmore, Andy LaRoque, Marty Friedman, Zakk Wylde, Dimebag Darrel, Randy, Malmsteen, Kiko Loureiro and Allan Holdsworth are the players that I like the most, they were the ones that really inspired and shaped my playing.
PRS: Was the guitar your first instrument and do you currently play any others?
Landon Siebens: Guitar wasn't my first instrument but it's always what I wanted to play. I started taking piano lessons when I was 6, really only as a steppingstone to get me to where I'd be more comfortable with music by the time I got to guitar. As for playing other instruments now, I record music almost every day, so I've kind of grown into becoming a little bit of a bass player. I play a little keyboard also, especially when I record, but mostly just to jot down little ideas. I mess around with drums sometimes too, but it's not what I would call my strong suit.
Hudson Macready: I started on piano at 5 and after three years decided that I loved guitar and wanted to stick to it. currently the only thing I am playing is guitar but am open to learn something else that interests me.
Kane Alvarado: The guitar was my first instrument. I do play some drums.
Daniel Fonseca: I started playing basic classic rock riffs on a cheap nylon guitar. After a while, when I realized that the acoustic guitar could not offer the heavy distorted guitar sound I was craving for, I convinced my parents to buy me a real guitar and, when I got it, my life surely changed. I can also play the bass guitar and I know my way around the keyboard, but what I am looking forward to is learning the violin.
PRS: Do you have any advice to offer to other young guitarists out there, looking to make their mark?
Landon Siebens: Obviously practicing consistently is crucial when first starting out, but there's other things I find equally as important. Getting to know people in the industry and networking is the best way to start getting some eyes on you and help you get in the right circle with great musicians. You also have to take every opportunity you can get to just get out and jam, and with people who are better than you. Playing music with other people, and different genres, will benefit you in so many different ways.
Hudson Macready: Put the work in and set goals for yourself. They can be as small or as big as you want.
Kane Alvarado: Always work hard and give it your all.
Daniel Fonseca: That's a great question and the one that I most get asked by my Instagram followers. In my opinion, studying is the key, all you have to do is learn your instrument. I started playing all the time that I could; in fact, I always tried to play it every day, even if for a moment when a day was full. By learning your instrument, things will come your way. So, practice... that's the most important thing you can do to dominate your guitar.
PRS: You are already gaining serious momentum so early in your career, what are your ambitions for the future?
Landon Siebens: My first goal for the future is to get into the studio and record as much as possible. Whether that's in a band setting or session work, it doesn't really make a difference to me, as I just love the recording process. I'm also looking forward to hitting the road at some point in the future, because there's nothing like the experience of live music. My dream is to tour the world and play for as many people as possible. And if those two goals go as planned, maybe I could even get my own signature PRS guitar one day. That would truly be a dream come true.
Hudson Macready: As of right now I don't know my exact ambitions for the future. I just want to be doing things I love and enjoy and sharing my talent with others.
Kane Alvarado: My ambition for the future is to be best guitar player of my generation and for the world to hear my music.
Daniel Fonseca: My dream for the future is to make a living with what I love the most: MUSIC!
I wish to create my own style and, when I release my own music, I'd really love if some people would connect with it.
I am working on my first EP and, although I am making the creation myself, I am so lucky to be working with some recognized musicians that I personally really love...stay tuned on my Instagram to get more info!
--
CONNECT WITH THE ARTISTS