New Albums From Four PRS Artists!
Posted Sep 25, 2020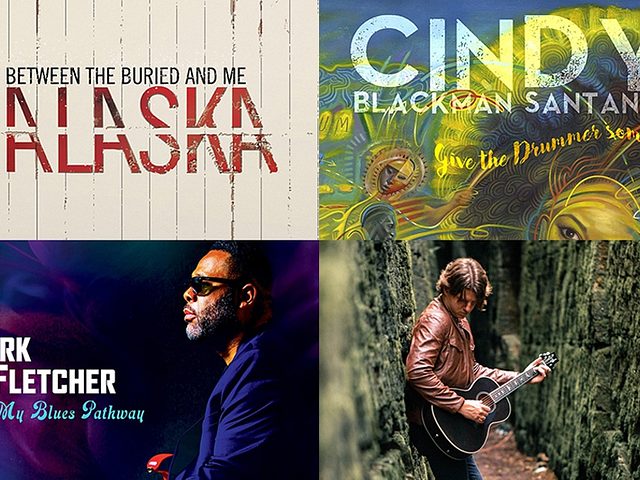 It has been a great week around here for new music, be sure to check out these recent releases from the following PRS artists.
BTBAM // Alaska: Remixed, Remastered, Re-released on Vinyl
PRS signature artist Dustie Waring and Between the Buried and Me are celebrating two career milestones with a remastered and remixed re-release of Alaska. This month marks the fifteenth anniversary of the band's landmark third album, which was released on September 6th, 2005. Alaska was also the first Between the Buried and Me record to feature the band's now familiar lineup of Dustie Waring, Paul Waggoner, Dan Briggs, Blake Richardson & Tommy Rogers. Remastered by Jaime King and distributed by Craft Recordings, the album will be available across all major platforms, with a limited red-marble vinyl pressing available exclusively on the BTBAM website.
CINDAY BLACKMAN SANTANA // Give the Drummer Some
(featuring Carlos Santana, Vernon Reid, John McLaughlin and Kirk Hammett)
Cindy Blackman-Santana has just dropped her newest solo record, Give the Drummer Some. The album's seventeen tracks not only feature the virtuosic drumming Cindy is known for, but also showcase her talents as vocalist and producer. Give the Drummer Some also boasts an epic list of guitarist cameos including Vernon Reid, Kirk Hammett, John McLaughlin and of course Cindy's legendary husband and bandmate, Carlos Santana.
KIRK FLETCHER // My Blues Pathway
World class bluesman and PRS endorsee Kirk Fletcher is also releasing a brand new album this Friday. My Blues Pathway is Fletcher's sixth solo record and features a mix of originals as well as some fresh takes on a few blues classics. The album is full of the soulful vocal delivery and smooth playing Kirk is known for and features blues legend Charly Musselwhite. My Blues Pathway is being distributed by Cleopatra Records and will be available on CD, Vinyl & Digital.
"When I play my PRS guitars I feel the sonic possibilities are endless. They are the perfect balance of impeccable craftsmanship and wonderful Tone. I feel these guitars are my own personal Blues expression" - KIRK FLETCHER
PETRIC // Flashbacks
Rising Canadian country trio PETRIC have just released Déjà Vu, the first single from their highly anticipated forthcoming LP, Flashbacks. Déjà Vu and its accompanying music video are out and available to stream now, with Flashbacks in its entirety slated for release on January 13th, 2021. While the majority of Flashbacks was written and recorded over the past two years, Déjà Vu, stands apart. Déjà Vu was written, recorded, and produced remotely from everyone's individual home studios during the COVID lockdown in Canada. The result is a song that is a stylistic departure for the band, but still unmistakably PETRIC.