PRS Artist Alex Williams Opens Allegra Music Academy
Posted Sep 02, 2020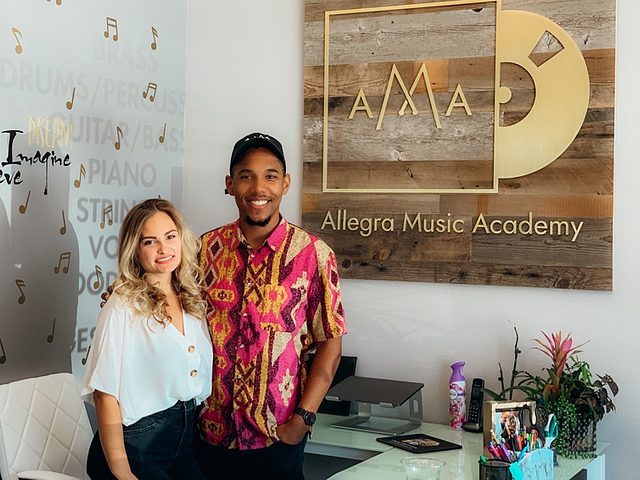 When he isn't out on tour or creating his own music, PRS artist Alex Williams has an amazing second job, he has his own music school! Alex and Co-Director Rachael Genualdo both own and operate the Allegra Music Academy, based in Los Angeles, California.
Allegra offers a diverse range of instructional and academic programs tailored towards students of all ages and skill levels. Recently renovated, Allegra's modern facilities include spaces dedicated to both one-on-one and group learning. The school even boasts its own state of the art recording, production and engineering studio, The Factory. Allegra Music Academy has recently reopened its doors on a "by appointment" only basis. We thought it would be a great time to reach out to Alex for some insight into his experiences both operating and teaching at Allegra.
5 MINUTES WITH ALEX
PRS: Allegra Music Academy looks like an awesome learning environment, tell us a little about how it came to be.
AW: Allegra Music Academy has been serving the Los Angeles community and surrounding cities for about 5 years! Allegra Music Academy started out offering just a few lessons in guitar, piano and drums but quickly added voice lessons, jam sessions, and studio rentals due to the positive feedback from our rapidly growing clientele. When Rachael and I heard that AMA was looking for new ownership, we knew we had to jump on board! Teaching music has always been a passion of ours. We are excited to have the opportunity to mentor children that love the art of music as much as we do.
PRS: What types of services and activities does Allegra offer in addition to traditional one-on-one instruction?
AW: AMA offers a variety of private lessons in Guitar, Bass, Drums, Piano, Saxophone, Trumpet, and Ukulele! We also offer Voice Lessons, Choir Ensembles, Jazz Bands, Summer Camps for kids, Touring Workshops for teens & adults, Zoom classes, monthly music kid events and Birthday Parties! We strive to provide a fun, exciting and engaging music environment in as many different capacities as possible! Everyone learns and experiences music differently so it's super important for us to be versatile!
PRS: A new expansion "The Factory" was recently completed, a dedicated recording and production studio. What types of products do you envision taking shape in this new facility?
AW: The Factory is the newest edition to AMA. The Factory is the perfect place to record, produce, write and create music. We have a team of professional engineers and studio musicians that can work with you if need be. Its the perfect place for recording sessions, tracking overdubs, producing your own music, shooting social media or music video content, demoing gear, anything you can think of! The aesthetics of the factory will enable your creativity to flow. We look forward to seeing all the success that will be made from within The Factory!
PRS: You have been a touring musician for some time. Does being Co-Director and an instructor at Allegra represent a career shift or something you will continue to balance with performing?
AW: I absolutely love touring and performing. I equally love being an educator of music. I am confident that I can balance both. Passion, vision and focus drives many to succeed including me. It's definitely a balance that requires dedication to both touring and teaching! Touring, traveling and performing with other musicians really pushes me to stay energetic and is my main creative outlet! Education is my way to give back to the music community that has given so much to me! My fiancé and my family provide so much support with Allegra Music Academy as well so I am so grateful have them!
PRS: What are your ambitions for the future of Allegra Music Academy?
AW: My ambitions for Allegra Music Academy are simple: Empower all creative minds to build and achieve their goals. To help educate young people about the importance of music and what it does for the soul. Our motto is "Go Further" and that truly is what it is all about. We want to share the gift of music to as many people as we can so they can experience the joy and self-expression it has given to us. At the end of the day, if one kid leaves Allegra feeling more upbeat and inspired than when they came in, that is success to me!
--