PRS Employee Spotlight - Billy Hawthorne // Body Assembly
Posted Aug 25, 2021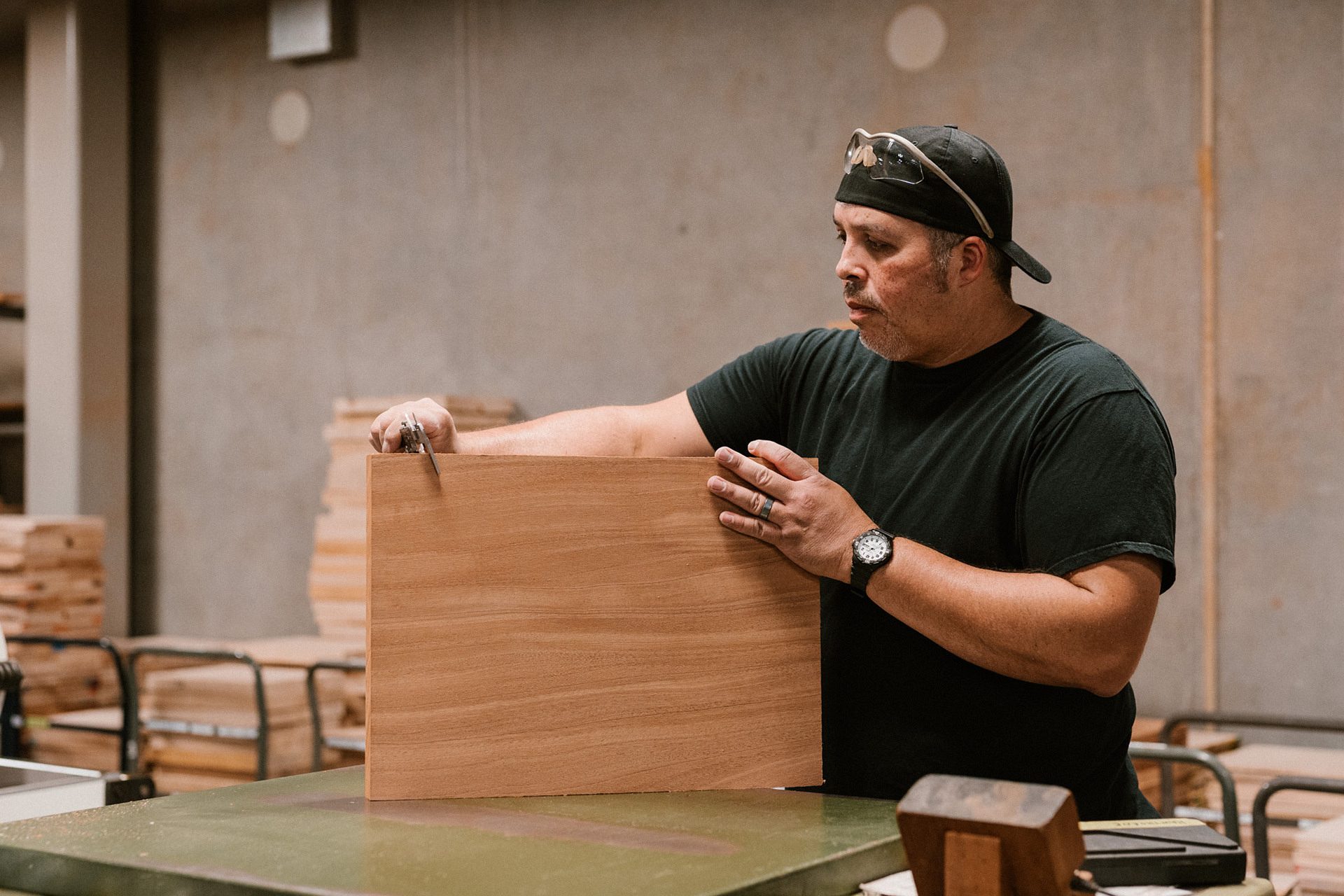 MEET BILLY
In 1996, Billy joined the PRS team as a body sander. Over the course of his now 25-year career at PRS, he has worked his way up through several positions in the body building department and now serves as the body build team leader. In any given day, you can find Billy training new employees, organizing the wood library, coordinating materials, building custom guitars, and disposing of scrap material.

In his free time, Billy loves to play music with his band and record music at home. Get to know Billy and his daily life at PRS in the interview below!
Q&A
What is a day in your life like at PRS?
BH: I like to get in early, around 5:00 am before the rest of our team arrives. The early morning helps me get things started, set up for the team, and take care of any odds and ends before the day begins. Once the rest of the team is here, my job will range from matching maple tops, to glue-ups, to cycle counting, all while helping leading the team. Because I have the most experience in the department, part of my role is answering the team's questions about particular builds and making sure that the specs and attention to detail is consistent while we work to build 100+ bodies a day!
What's the most important tool in your line of work?
BH: Wow, there are many. We have templates, machinery, my calipers, etc... You always need to know the thickness of everything you're working with. You have to know how much room you have to play with because every guitar is different - every model has its own specs. Some guitars want to be drums and you have to convince them otherwise! You're working with mother nature here so you have to convince it to do what you want it to do because it might have a mind of its own. There are so many components to guitar building and they all need to be working properly together. Body build is where the rubber meets the road, if the body isn't built correctly out of the gate it won't be right down the line.
What do you like to do outside of work?

BH: I play with my band, but I don't tour as much as I used to. I used to be in a signed band that toured the East Coast, all while keeping this job. I was with Recourse for 6 years and I've slept in the PRS parking lot many nights after playing a show in Baltimore and having to work the next day! These days I mainly record music at home with a project called Witchbat.

I'm a guitarist and songwriter, but I'm not a trained musician and I'm hardly a practicing musician either. I somehow just know what things I wanna do and I'm able to do it. I think it's an ear thing.
Do you think that translates to guitar building as well?
BH: Maybe it does and I don't realize it. I've spent half of my life working in the same team / department. By now I know what I'm looking at when I see it - and I see things that other people haven't learned to look for just yet. It's become natural to me since I've been doing this for 25 years, and sometimes I take that for granted. I love teaching the new hires what I know.
What is your favorite type of wood that you come across in your day-to-day work, and do you have a favorite PRS model?
BH: I would probably go with the combo of an East Coast flamed maple top and mahogany back. That's the old school stuff! And right now I'm kinda liking the McCarty 594 Singlecut. I've built a bunch of them so I want to own one! haha.
If you didn't play guitar, what instrument would you want to play?
BH: I like to fiddle with anything but I can't keep a beat on the drums. I mess around with guitar and bass all the time but I end up being the singer in a lot of these bands and I don't know why!
What do you love the most about working at PRS?
BH: I would say the people. I like having so much in common with everyone. We all speak the language of "guitar" in here. When I came here for a job I knew that this was something special. It's a real job doing something that I'm actually interested in, that's also a part of my life. Some of us come in here and meld right into it. It's natural.