PRS Employee Spotlight - Jordan Shea // Quality Control
Posted Mar 10, 2023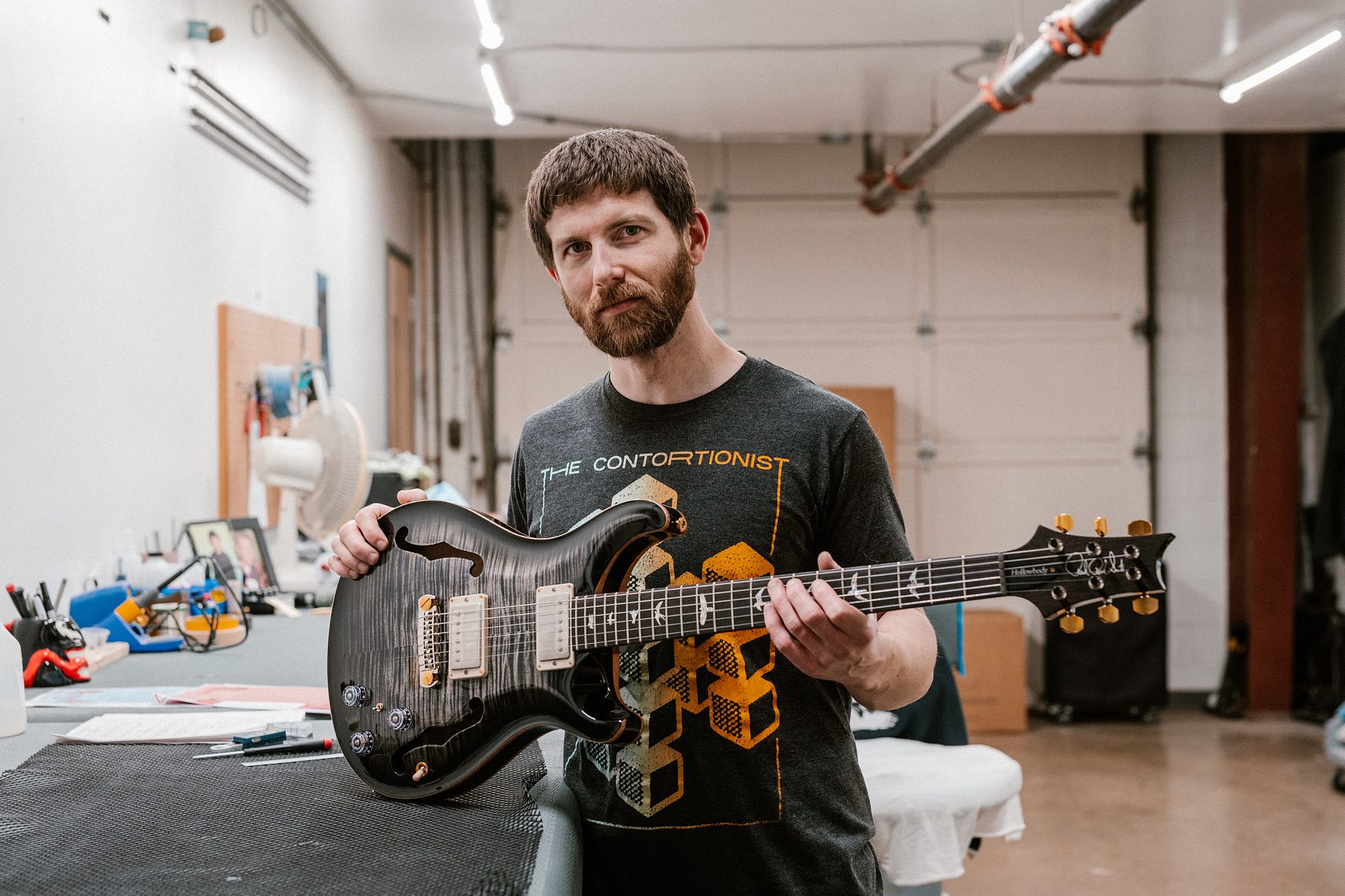 MEET JORDAN
In this PRS Employee Spotlight, meet Jordan Shea, a member of our quality control team. Jordan has been a PRS employee for 6+ years and has gained experience in a number of departments including basecoat and spray. Jordan's skill in each of these departments is a reason he still splits his work day - lending a hand where he is needed most. We asked Jordan to walk us through a day in his life at PRS and share some other interesting fun facts about himself. Enjoy the Q&A with Jordan below!
Q&A

How long have you been at PRS, tell us the story of how you landed here?
Jordan: I've been at PRS for six years. Before I came here I'd been in retail for thirteen years, which was not what I wanted for a career. After having a job I didn't like for so long, I realized I needed to do something I enjoyed for work. I love guitars and working with my hands so I thought about building guitars, and after some online researching I found out there were a few luthierie schools (which I didn't know existed). I immediately enrolled in a six month program at a school in Michigan and came to PRS about a year after I left there. I'd always loved PRS guitars and it was only an hour from where I lived so it made sense for me to come here. I was hired as a basecoat sander but was moved to the spray room after a few months. After spraying for a couple years I moved to basecoat quality control and after a couple years of that moved to my current position as quality control for final assembly which I've been doing for just over a year.
Do you have a favorite moment / memory from your days at PRS?
Jordan: It's hard to pinpoint one memory as my favorite. With the cast of characters that work here, each day is astonishingly entertaining. But playing drums at the Winter Blah's in a band with Paul Smith, Jim, and Doug is something I'll never forget. (Editors Note: Winter Blahs is an annual tradition here at PRS where employees form bands for a one-night performance and employee party.)
What is a day in your life like at PRS?
Jordan: I start off my day in final assembly doing the final play check for guitars before they're cased. As quality control I'm checking to make sure each guitar plays, sounds, and functions as it should, as well as making sure all the setup measurements (action, pickup height, relief, etc.) fall within our specs. This job also involves playing each guitar to make sure the frets and strings feel right and to make sure the electronics function properly. Sometimes about half way through the day I'll head over to basecoat to help out with anything they need, usually checking guitars for any stain, grainfill, or woodshop issues before they go in the spray room, or checking bolt-on necks before they get sprayed. There are different needs in the PRS factory every day and if there is a bigger volume of work in one area or another, that will dictate how my time is spent. It's surprisingly dynamic for a factory setting, but it's something that I enjoy.
What are important things you need to succeed at your job at PRS?
Jordan: As a member of the quality control team, attention to detail is extremely important for me. Most setup-related measurements are in fractions of an inch and they have to be in a very small window. Something sounding just a little bit off when play-checking can indicate an issue with a pickup or wiring. When I'm in basecoat I'm looking for tiny wood scratches, or specks of grainfill, or the stain color being just right. Tools are also important to my job. I use many, but in final assembly my most important tools are a guitar pick, a ruler, and a screwdriver, and in basecoat an x-acto knife and some 220 or 320 grit sandpaper. Although in either spot - my eyeballs are probably my most important tool.
What are your favorite hobbies?
Jordan: I love playing music, I'm usually playing guitar or drums, but I've gotten into synths over the last year so I've got a synth and a sequencer that I've been messing around with a lot lately. I also have an unnecessarily large collection of effects pedals (lots of delays and reverbs) which is probably to mask my awful playing. Asides from music, I enjoy reading (mostly history or science non-fiction stuff with the exception of Calvin and Hobbes), I do a little bit of photography, and I like to exercise. I don't play many video games but I do enjoy most Zelda related games. I also enjoy being outside - as long as it's not too hot; my girlfriend and I have a one year old great pyrenees puppy named Yukon that we take out adventuring as often as we can.
If we gave you a private plane and two weeks, where would you travel?
Jordan: I would probably to go to Iceland or Finland first, somewhere that I can see the northern lights and some snow. But I'd also like to see the Amazon and maybe some Incan or Aztec ruins. And Switzerland.
What do you love most about working at PRS?
Jordan: Getting to work on and contribute to world class instruments is an amazing thing to get to do for a job, but more than that there are people here that very quickly became family to me, which I think is an experience a lot of people have here. There's a diverse group of people and personalities here that are extremely talented and creative, and it's an adventure every day interacting with them. It's also pretty cool to get paid to play guitar at work everyday.