PRS Employee Spotlight - Michelle Kealey // Purchasing Manager
Posted Apr 21, 2022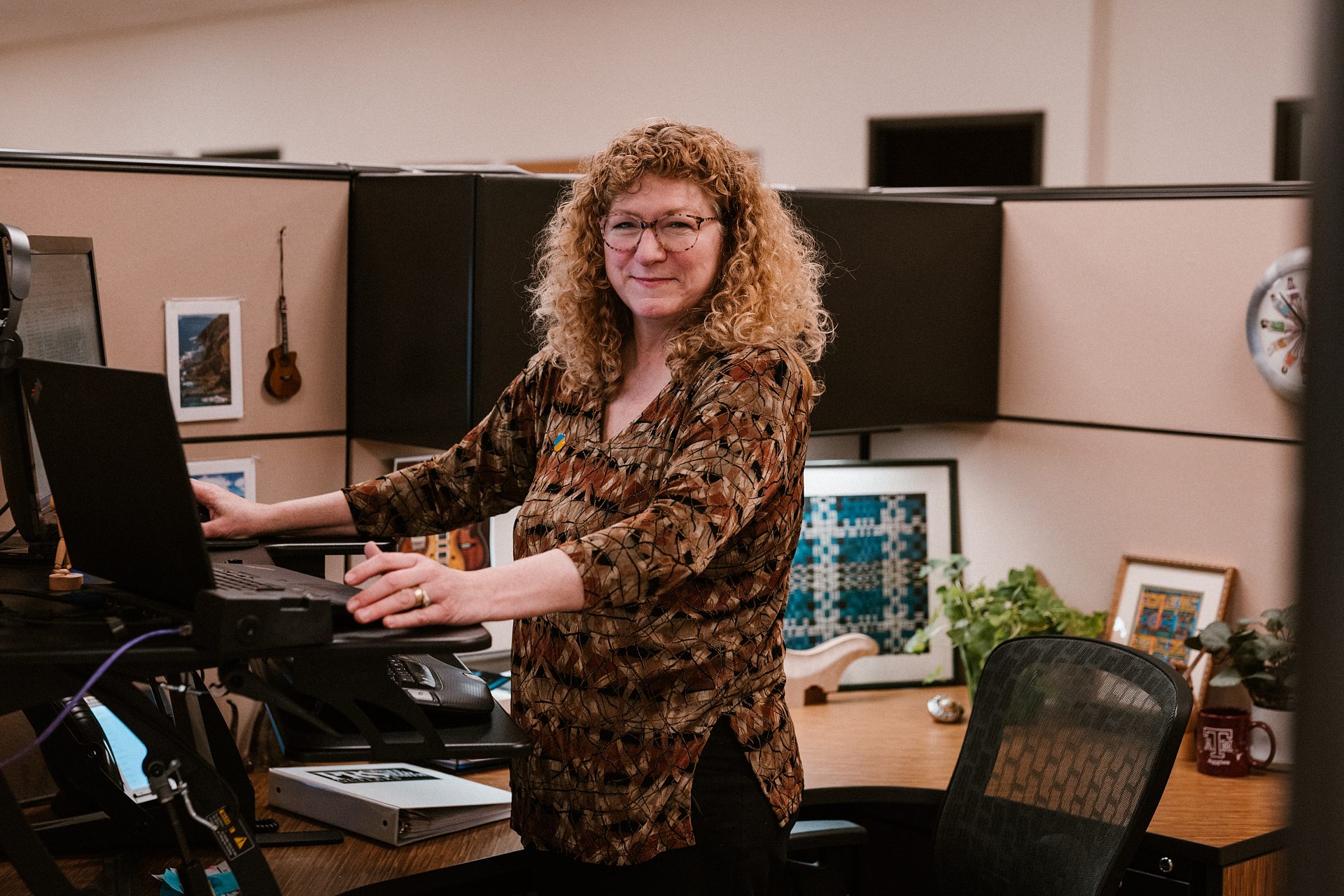 MEET MICHELLE

After watching an episode of How It's Made featuring the process of guitar building, Michelle was reminded of a guitar manufacturing facility located right in her backyard - that facility being PRS Guitars! Two months and a few interviews later, Michelle was hired as our Purchasing Manager. Day-to-day, Michelle and her team coordinate the monthly planning and buying of parts including bridges, tuners, magnets, and much more.

In her free time, Michelle enjoys ribbon-weaving, photography, story-writing, and spending time visiting her three grown-kids. Get to know Michelle and her day-to-day life here at PRS in our interview below.
Q&A
--

What is a day in your life like at PRS?
MK: Based on the day of the week, I could be placing orders, communicating with the quality or the receiving department, meeting with the engineers, or walking the factory floor to confirm which parts and materials need to be expedited. As the Purchasing Manager, my team and I take care of every part of the guitar except the wood (we have a special team for that). We're buying everything that directly makes up a guitar: tuners, truss rods, frets, and inlays, to pickups, bridges, and cases - if you see it on or in your guitar, we're helping to get it in house for our guitar builders to use. My team also buys everything indirect that is needed for the plant to function efficiently: CNC machines, end mills, jigs, tools, and sandpaper (lots of sand paper!), etc.

We also make sure that we are getting the best prices, quality, and delivery of those parts. Establishing relationships with new and alternate vendors is a key part of our job. It's important to have primary and secondary vendors, both domestic and international. We partner with suppliers from the U.S., Canada, Japan, Korea, China, and Europe. One of the most important parts of my job is maintaining good vendor relations with active detailed records, open dialogues, zoom calls, and site visits when possible.

On top of that, we are continuously improving our procurement processes with other internal departments here at PRS: especially quality, production, engineering, receiving, and accounting. Last but certainly not least, we do commodity reviews, or deep dives into a product line, to learn about industry options and advancements (i.e., magnets, capacitors, plating techniques, inlays, resins, copper coiling, etc.).


Can you talk us through the purchasing process?
MK: We plan orders based on the material requirements loaded into our Material Resource Planning (MRP) system. Planning entails confirming purchase quantities, delivery dates, and pricing on a monthly or quarterly basis. Once the orders are placed with our existing vendors, we track the status of the order and anticipated delivery. If there are any delays, we communicate with our internal customers and adjust dates in the system to reflect those updates. When the orders arrive, they are inspected and made available for production or inventoried. The job is not done until the paperwork is finished, we also assist Accounts Payable by ensuring the invoice information all matches.
What are some of the challenges in your role?

MK: One of the most challenging parts about this role is not having full control over our partners' packaging processes. For example, we could be getting a beautiful roll of copper coil weighing just over five pounds (or 2.3 kgs) with copper threads thinner than human hair, but it may have been roughly handled and gets damaged during shipping. It's disheartening when we spend all that time and effort on a quality material for it to arrive damaged and unusable. Availability of parts can also be very challenging, for example magnets are a hot commodity these days, but worth waiting for the highest quality materials.
What's the most important skill in your line of work?
MK: My computer - haha! Specifically, utilizing database, spreadsheets, and systems knowledge. It's also important to know the anatomy of a guitar and understand the parts needed. Take the S2 Custom 24 for example - it has over 100 parts and subassemblies, 132 to be exact! Another example, we build unique pickups for different guitar models, so understanding all the size, color, and style variations in guitar parts is also important. To simply answer the question: being systems-savvy and detail-oriented are the most important skills.
What do you like to do outside of work?
MK: Fun fact: I'm a scuba diver, my last dive was three years ago in the Red Sea in Israel, and before that off the west coast of South Africa. I've also recently taken up writing short stories, and I'm about to launch a blog this spring. It's called Reading2Write and is inspired by children's stories.

What do you love the most about working at PRS?
MK: The people. PRS is diverse and eclectic - no two people are alike, and I love that. The culture is strong as well and built up from those who have been here for years - it's friendly, supportive, and empowering. I feel like PRS sincerely wants you to succeed while having fun making the best and most stunning guitars possible.
--