PRS Employee Spotlight - Paul Boyd // Sprayer
Posted Mar 24, 2022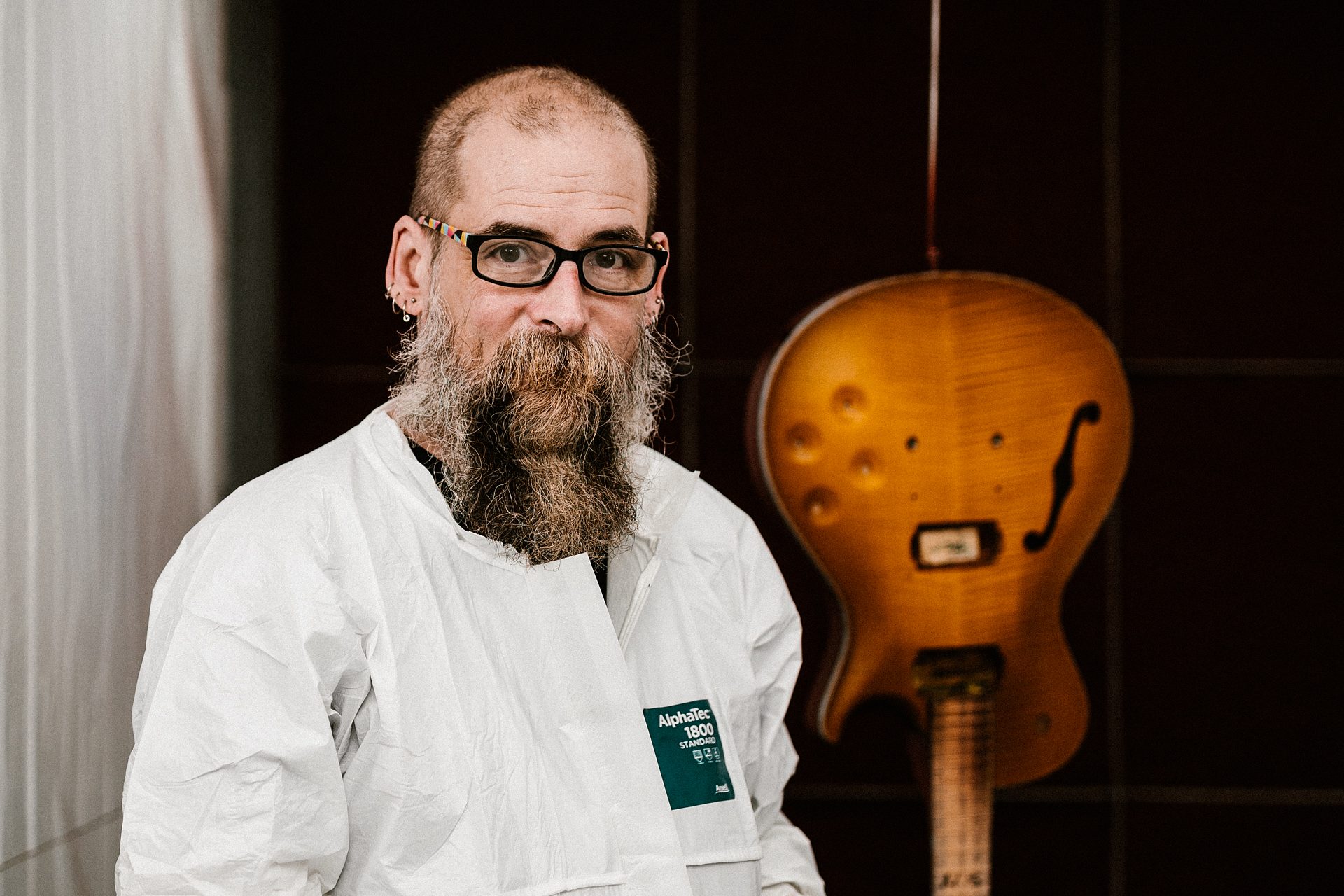 MEET PAUL
Like most PRS employees, Paul's love for guitars led him to a job at PRS. In 2000, Paul joined the team as a top coat sander and has worked his way through several positions including fret level and finish QC. Now as a 22-year employee at PRS, he's one of our talented night shift sprayers. Paul is responsible for developing some of of PRS' staple colors like Blood Orange, Fire Red, and his personal favorite, Boyd Burst.

In his free time, Paul loves to play music, paint, hunt and fish, and rewatch Moana with his 3 year old niece for the "2000th time." Below, get to know Paul and his day-to-day life here at PRS.

Q&A
--

What is a day in your life like at PRS?
PB: As a night shift employee, I usually come in at 2:00 pm and before anything else, I make a cup of coffee. The first thing I do is spray the necks with toner and black paint depending on the model. Then I start gathering guitars from the prep and stain department where the top of the bodies are already stained. I then start painting the sides, backs, and necks before starting the burst on the top (if the guitar calls for a burst). I usually spray between 65 and 80 guitars a day, ranging from S2s, Bolt-Ons, and Core models. At the end of my shift, I write the serial numbers on the Bolt-on necks and I re-hang guitars on racks to be sent to the clear coat team in the morning.
What is the most important tool in your line of work?
PB: I have a 15 year old Sata spray gun that I use everyday and I don't know what I would do without it.

Can you talk to us through the process of spraying a typical burst on a guitar?
PB: First I paint the side, back, and neck of the guitar with its base color which could be anything from opaque, tobacco, cherry, etc. This color is usually the same color as the burst on the guitar's top. I usually repeat the process to give the guitar two thin coats of paint. After that, I clean any overspray off the top and begin the burst.

When spraying the burst, I spray at an angle towards the edge of the guitar from the center of the body. The full color of the burst will cover about half an inch from the edge of the guitar and the gradient with happen naturally through the process while spraying diagonally. Some colors appear faster than others and some need multiple layers to get to where they need to be. It's really not a mathematical process and more art than science and trusting my eyes. After I've accomplished the burst, I paint the hand carve and the sides of the heal to finish it off.

See Paul's process in detail in this episode of 'From The Factory Floor!'
What's your favorite PRS Model?
PB: S2 McCarty 594. It's an awesome guitar!
What's your favorite part about being a sprayer?
PB: Creativity. You watch something from start to finish.

Do you have a personal favorite color/color combination to spray?

PB: Tough one to answer... Boyd Burst. It is a McCarty Tobacco Burst with a natural center and it gets bursted on the back, the neck and the headstock. I just painted my employee guitar that color not too long ago.

What do you like to do outside of work?
PB: Like 80% of PRS employees, I love playing music. I play the guitar, mandolin, ukulele, and banjo. I also like tinkering on guitars, doing repairs, and building kit guitars. I usually take parts that don't usually match and put them together like a Frankenstein guitar. Nine out of ten of my guitars have three humbuckers so I'm always routing a hole on something - haha.
What do you love the most about working at PRS?
PB: Knowing that the guitars that I paint are out in the world. Seeing pictures of them in the hands of artists in studios and on tours is a good feeling. It's a nice thought to be a part of that.