Q&A with Rob Spampinato, New Music From Heatedxchange
Posted Aug 14, 2020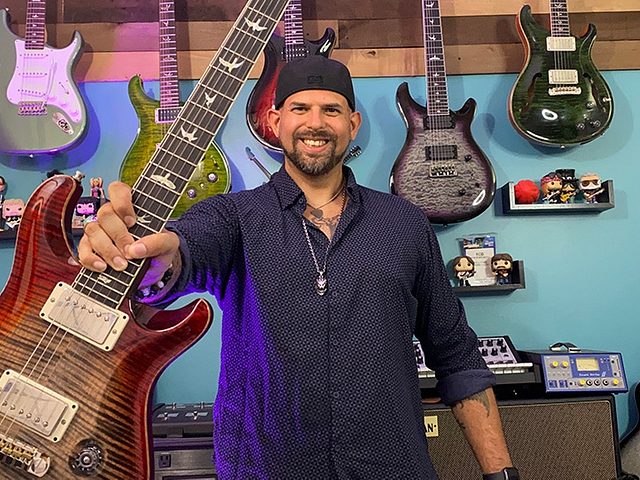 HeatedXchange, a collaborative partnership between longtime PRS endorsee Rob Spampinato and vocalist Samantha Mera have been hard at work in the studio writing new material.
The duo, which formed in 2014, recently released "Outbreak" the first single from their forthcoming EP. Written during the opening weeks of the Coronavirus epidemic, "Outbreak" was directly inspired by the turbulence and uncertainty of those early days. As the scope of the crisis expanded, so did the spirit behind the song. Initially born out of a collective sense of fear, "Outbreak" manages to deliver a hopeful message of strength and unity.
LISTEN TO THE SINGLE BELOW
Heatedxchange's next single "How Many Times" releases this Friday August 14th.
5 MINUTES WITH ROB
PRS: HeatedXchange's latest single "Outbreak" was written during the onset of the COVID-19 lockdowns. Besides inspiring the song's lyrical content, how else did quarantine shape the evolution of this project?
RS: Great question! The whole quarantine experience was the catalyst for this project. Prior to COVID-19, I had been primarily focused on growing my music school. Teaching coupled with steady gigging had unfortunately forced me to put writing on the back burner. Once the world entered locked down, all of our gigs got cancelled. This was really frightening to myself as well as musicians all across the nation. However, having this extra time at home has allowed us the time we need to finally focus on our own material again. As the theme for this song began to take place, we quickly realized it was time to dive deep into a full EP. Writing and bringing "Outbreak" to fruition reminded me just how much I truly love to create and write. There is no greater feeling than bringing some of your deepest emotions to life through music. Quarantine has been an eye-opening experience for a lot of people, especially those with creative minds.
PRS: "Outbreak" began with a MIDI framework arranged by bandmate, Samantha Mera, before being fleshed out with rhythm tracks and additional instrumentation. Is this typical of your writing process, or is each song approached differently?
RS: Each song is different for us. Sometimes it starts with a guitar riff or chord progression, whereas other times it will be a synth line and drum pattern Samantha comes up with. There is another song on the EP that started with a series of loops I created using wacky pedal combinations. Each of us plays multiple instruments and writes music and lyrics constantly, so there is no set formula for us. It also depends on the emotions we are feeling and what is inspiring us in that very moment.
PRS: Your new EP features a Charcoal Cherry Burst McCarty, a Silver Sky, a Hollowbody II and even an SE Holcomb 7. When writing or in the studio, does the song dictate your guitar choices or does the guitar inspire the song?
RS: I truly love the diversity of my PRS collection. I've spent enough time with each instrument to have a decent idea of what sounds I can pull from them, but I am constantly surprised with the new tones I find. Sometimes I'll go to a specific guitar for a particular tone, but other times I'll be noodling around and a song literally falls out of the guitar. That often occurs with the Hollowbody II. My new favorite tone can be found on the rhythm parts of the verse sections in "How Many Times," our next single coming out 8/14. It is the Silver Sky in the Neck/Middle pickup position. I've never heard a better single coil tone!
PRS: In addition to being an active performer and producer, you run your very own boutique music school in the New York area. Tell us a little more about the aptly named "Rob's Music School".
RS: I opened "Rob's School of Music" in 2017 as a small project to give back. I've always loved teaching and when I saw the opportunity to open a school, I jumped on it! Including myself, we have 8 teachers offering lessons for all skill levels in guitar, bass, drums, piano, voice and audio production. What makes us different from other schools is that we completely customize the lessons based on each student's learning style. All of the teachers are active professional musicians, so it's more of a real world music education.
Once COVID-19 hit, we moved all of the lessons online and have proudly taught nearly 2,500 online lessons since March. Since everything is taught remotely now, we are working with students from all around the country. We also do weekly Instagram "Live" interviews @robsschoolofmusic every Wednesday at 6pm EST with professional musicians. So far, we have interviewed or have scheduled artists such as Donovan White, Mark Lettieri, Tim Pierce, Rudy Sarzo, Bruce Kulick, Zach Myers, Andy Timmons, Ryan Roxie, Bumblefoot, Sophie Burrell and Pete Thorn. We then turn the interviews into podcasts, giving the students a great way to hear stories and learn from their heroes!
PRS: Are there any other projects you are currently working on, and when can we expect to hear heatedXchange's new EP in its entirety?
RS: Our next single, "How Many Times," is coming out on 8/14. After that, we will be releasing one more single before the full EP hits in the early fall. Samantha and I are constantly writing in all genres, both as a duo and with our writing team from around the world. heatedXchange is the conduit for the rock music, but there are other projects in the works. Beyond the new heatedXchange EP, we have a Dave Audé remix of "Outbreak" coming out in September as well as a dance/EDM record coming out in December under the name "Samantha Mera." The "Samantha Mera" songs are a lot of fun because they feature guitars in a very non-traditional way. It was a really fun challenge finding ways to fit guitar into a dance/EDM record. It is not done very often, but I love the way my PRS guitars sound over some good synth melodies. It's really unique!
--