Super Bowl LVI: Chrome Silver Sky Steals The Show!
Posted Feb 17, 2022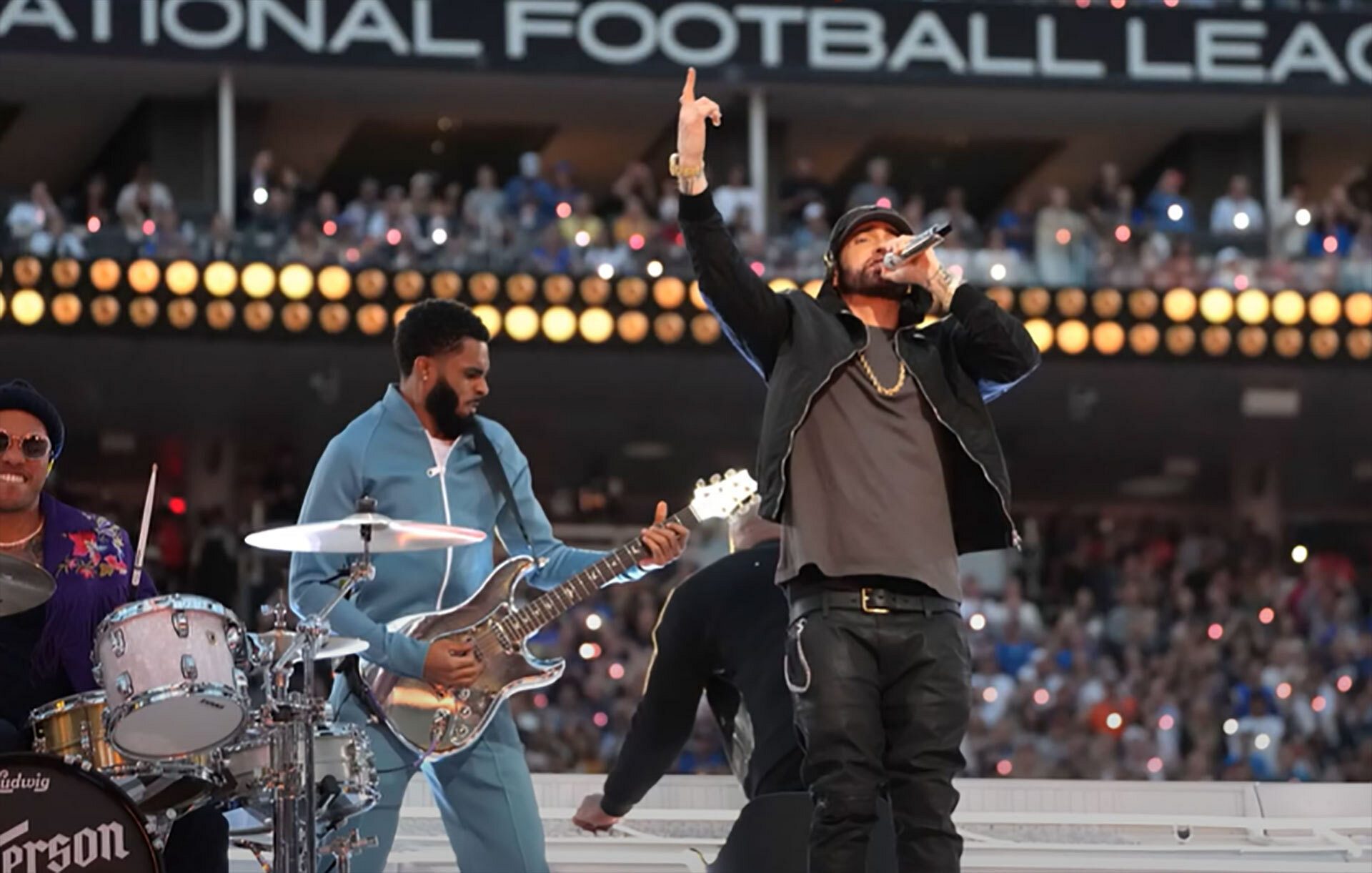 Last Sunday PRS artist "Freaky" Rob Gueringer hit the stage in support of Eminem during the Super Bowl LVI half-time show. Those of you with a sharp eye may have noticed Rob's one-off chrome Silver Sky making its debut. We had an opportunity to sit down and catch up with Rob in the aftermath of this epic gig.

"Performing at the Super Bowl was a dream come true for me. Literally, the most unbelievable and breathtaking experience I've ever had on stage. It was full energy and legendary people. I'm very grateful and beyond thankful for the opportunity to have been a part of this!" - Rob
FIVE MINUTES WITH "FREAKY" ROB GUERINGER
PRS: Can you recall your first experience playing a PRS guitar? What model was it and where were you?
Rob: My first time playing a PRS was at Guitar Center. The axe was a Santana model, and I had to be about 13 or 14 years old at the time. I never had felt anything like it before!
PRS: What are currently the go-to PRS guitars in your touring arsenal?
Rob: My current go-to PRS guitars are my Hollowbody ll, Mira, and the Silver Sky.
PRS: At this point in your career, you've shared the stage with a wide range of artists. What would you say is the most valuable thing you've learned?
Rob: One of the most important things I've learned over the years of working with the greats is definitely listening more than speaking. You can learn a lot if you follow this regularly.
PRS: You had a show stopper performance during the 2022 Super Bowl halftime show with Eminem. Is there anything special or out of the ordinary that you did to prepare for the gig?
Rob: I did not prepare any differently for this show than any others. However, I did debut a very special PRS guitar for the performance! It was the first time it had ever been seen! My Silver Sky was wrapped in chrome by Icon Image Graphics to fit perfectly into the white and chrome stage set.

PRS: Are you currently working on your own music or any other projects that we should keep an eye out for?
Rob: Yes, I definitely have tons of new music on the way. I just dropped a new single called "Out Of My Hands" with my band "The DRs". It is available on all platforms, please download, stream and share it! I will also be releasing new solo music as well… stay tuned!!!!