Training our Partners: USA PRS Employees Travel to Japan & Indonesia!
Posted Dec 14, 2022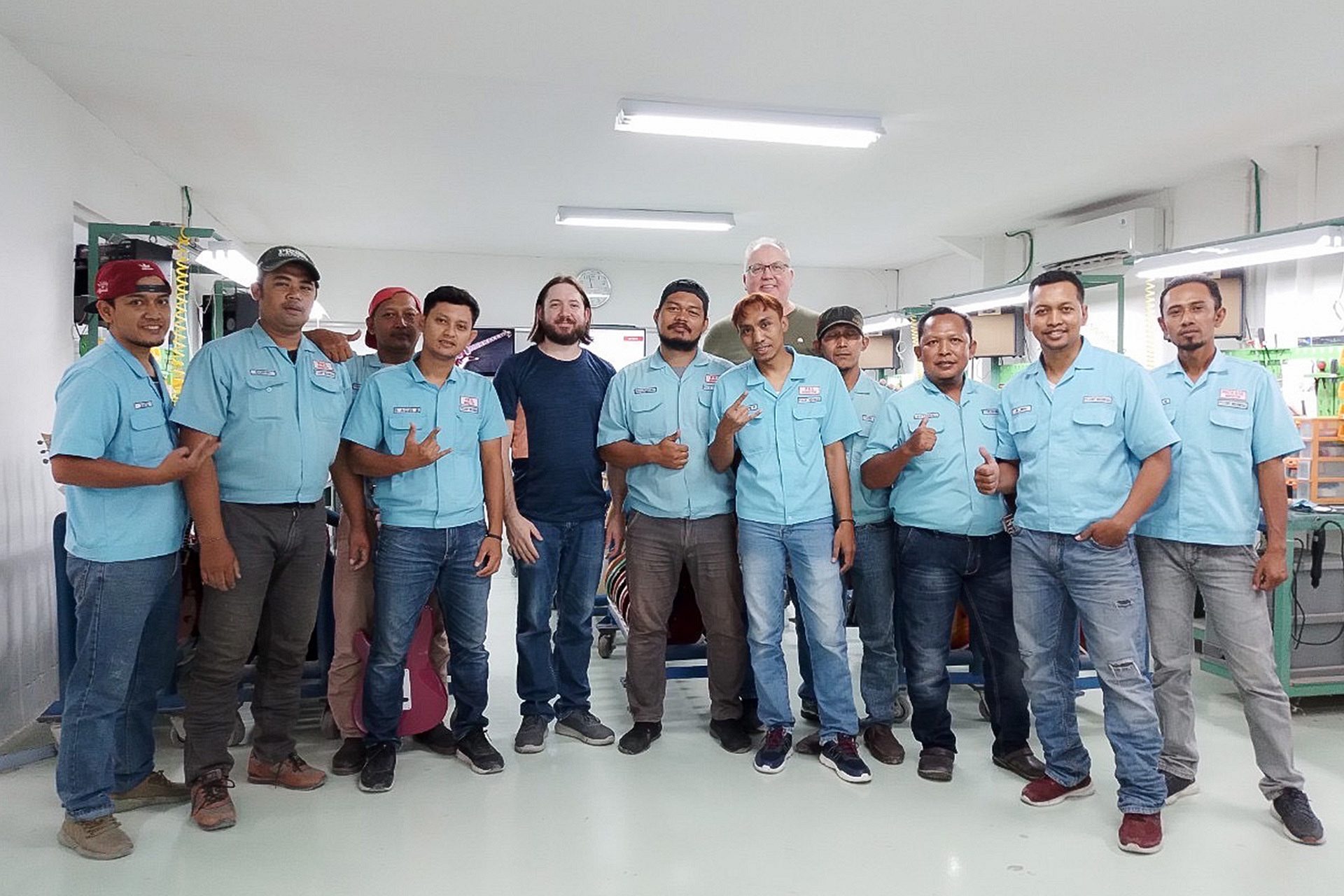 PRS employees Tom Walls and Mike Feifer recently took a 20,000+ mile roundtrip journey from our Maryland headquarters to train our partners at PRS Japan and the PT Cort guitar factory in Indonesia where our solidbody electric SE instruments are made. Tom (SE Supervisor) and Mike (SE Finish Specialist) spent quality time with the employees in both Japan and Indonesia helping them refine their processes. Below, learn more about Tom and Mike's travel experiences in our Q&A!
Your first stop on the trip was to PRS Japan. What did you all do there?
Tom: We met up with the PRS Japan team who work at our distribution location and helped train the team while we were there. I was specifically there to go over our guitar setup process and the overall quality control process for our SE line. The main goal was to make sure the quality standards were being met in the same way we do it here in the U.S. and to address any issues the Japanese team was dealing with.

Mike: My specific focus while there was to show the workers of PRS Japan more efficient ways to repair the finish on our guitars - that's my speciality at our U.S headquarters.

Did you have time in Japan to see the cities? Do you have a memorable story or meal to share?

Tom: We only had a small window of time in Japan. We arrived on a Thursday in the early evening, on Friday we spent the day at the distribution center, and Saturday morning we caught a flight to our next destination. We did see some of the area around our hotel which was in Shibuya where the famous Shibuya Crossing is located. It was actually right next to our hotel and we could see it if we looked out the window. It's a massive intersection where every few minutes all the traffic is stopped and they allow pedestrians to cross the street in any direction with 3,000 people crossing at one time in some cases. We went to a local music store as well. That was fun since the Japanese market has some different things that I don't usually see in music stores in the U.S. We checked out the PRS section that they had in the store and browsed while chatting with the store clerks. The first night we were there we went out to dinner with the PRS Japan team and had nigiri sushi which was a first for me. The Jellyfish and Sea Urchin were quite an experience. On our last night we went to Shibuya Sky which is an observatory deck located on top of the highest building in the Shibuya district. From there we had a 360 degree view of all of Tokyo. I knew Tokyo was big but seeing it from the top of that building really puts it into perspective. It looked like the city went on forever. It is MASSIVE!

Mike: We were on a tight schedule so there was very little time to see the cities. My most memorable meal was eating sushi with the PRS employees in Japan and sharing sake. Also, going to the rooftop to get a beautiful view of all of Tokyo at night. It was amazing flying into Tokyo and seeing Mt. Fuji in the distance.

What was the goal of your second leg of travel to the P.T. Cort Factory in Indonesia?

Tom: The goal was to meet with the managers and line workers, go over problems that might be occurring during production, train new people, make sure that existing employees are still meeting our quality standards, check how new products are coming along, and overall just make sure we are making the best products we possibly can in the factory. Going over there and being able to physically see the processes and dealing with things in real time is a great way to strengthen our working relationship.

Mike: My goal was to tour P.T. Cort, get an idea of what their processes are, identify issues within the process and how to fix them, and train the people in final inspection and how to facilitate any necessary repairs.

Describe a day in your life while in Indonesia.

Tom: I'd get up at 7AM and start getting ready. We'd meet down in the hotel lobby around 8AM to catch our ride to the factory. The hotel where we stayed was a little over an hour away from the factory so we'd discuss our plans for the day during the ride or just chat about normal stuff. We'd meet with the managers when we arrived and grab a water bottle. It is pretty hot over there and staying hydrated is a must. We'd then head into the shop floor to get our day started. I spent most of my time in the final quality control inspection area. That's where the guitars are given a final look to check for imperfections in the fit and finish and then they are setup to our specs. Truss rod adjustments, string nut heights, action, pickup heights, bridge adjustments, intonation, etc. is all done at this point. My job was to make sure each inspector was following our instructions and to help them if they had questions about the setup process. We'd break for lunch for about 45 minutes and then return to the shop floor. We'd also go to other spots in the factory and look for areas of improvement, find solutions, and train the employees in quality control. Once the day was finished we'd get a ride to dinner with some management. At dinner we'd discuss some things from the day but it would eventually lead to just chatting about our lives. We would talk about family, music, experiences, and more while enjoying the great food and endless drinks. I will never drink Soju again thanks to John and TJ! Worst hangover of my life!

Mike: My day consisted of waking up and showering, going to breakfast at 7AM, leaving at 8AM to drive an hour to the factory, working until it was time for lunch, and eating Korean food with the management of PT Cort. Working until 4:20 - yes they get off work at 4:20, driving an hour back for dinner then back to hotel to sleep, then repeat the next day!

What surprised you about the people, culture, or factory there?

Tom: I don't know if anything surprised me really. I was more surprised at myself for trying all of the different foods. I really liked the Korean pancakes! Everyone I met was super nice and friendly too. The culture seemed very interesting but I didn't experience it much since we were working at the factory most of the time. I was surprised at how neat, clean, and open the factory was. Everyone rode mopeds, scooters, or small motorcycles which was interesting. The roads are packed with them and it made for some entertaining rides to and from the factory. Also I was surprised how hard of a time I had using chopsticks but I refused to ask for a fork and knife. I was getting the hang of it by the last day though.

Mike: Nothing really surprised me about the people or culture cause I travel a lot, but I was really impressed with the factory - it was clean! I was particularly impressed with the spray room with the conveyor belt and big machines that could carve up to 6 guitar necks at the same time.

Your goal was to train our partners in Indonesia, but did you learn anything yourselves?

Tom: Oh yeah, definitely. I learned a lot about the overall build process of our SE guitars. I already knew quite a bit but seeing it in front of you and being able to ask questions and get the answers in real time was great. Understanding how the machines operate or why a certain step is taken and the way it affects the process was fascinating. Knowing how a piece of raw wood turns into a playable instrument is very valuable knowledge to have. I also learned that durian fruit smells very bad.

Mike: I discovered certain tools that PT Cort uses that could help us with our processes.

What would you like PRS SE players to know about the factory that builds their instruments?

Tom: A lot of time and energy goes into building these instruments. There are people in that factory that are hard workers, super talented, have great personalities, and take pride in what they are doing and the product they are creating just like here in the U.S. factory. It doesn't feel like a big factory half way across the world. It feels like an extension of PRS.

Mike: While in PT Cort I met some really great workers, everybody seemed to love the work that they do and want to work with us to ensure that they are building a guitar that meets PRS standards.

--
To learn more about the PT Cort SE Factory in Indonesia, watch our Factory Tour video below!