NOTE: This is a previous model year product. To view current products,
click here
.
Play in Full Bloom
"All guitarists have a sound in their head – a sound that evolves and grows as they progress, discovering all of the beautiful idiosyncrasies that define their individual voice. To facilitate this process, players need a vibrant, dynamic guitar that becomes a free space in which their personality can unfold. PRS and I designed Fiore (Italian for 'flower') to be this guitar." – Mark Lettieri
The PRS Fiore model continues PRS Guitars' journey into the bolt-on, single-coil guitar world. Developed with guitarist, composer, producer, and instructor Mark Lettieri, the PRS Fiore offers a modern aesthetic, effortless playability, and an addictive and sophisticated tonal canvas.
The PRS Fiore pickups were carefully voiced by Lettieri and PRS to allow players a platform to explore and find their voice. The Fiore-S single coil offers exceptional malleability in tone. Capable of capturing all the articulation found in everything from whisper-quiet melodies to full on funk and rock explosivity, this pickup reacts to each player's unique approach.
The Fiore-H humbucker fulfills Lettieri's desire for extensive versatility in the treble position: enough power and punch for high-gain lead tones, but with a smooth top end that allows the pickup to be played clean, even with the volume knob wide open. Both the Fiore-S and -H work seamlessly together, producing balance, clarity, and that elusive 'bloom' in all five positions.
But the tone exploration doesn't stop there. The Fiore model features a 5-way blade switch with traditional wiring (bridge / bridge + middle / middle / middle + neck / neck). The Fiore also features a single volume and two push/pull tone controls, which further adds to this guitar's tone-shaping abilities.
Lettieri brought several personal design choices to this model, including a custom truss rod cover drawn by his very own mom. Other appointments include a Swamp Ash body, 22 fret maple neck with maple fretboard, and 25.5" scale length for classic look and feel.
Specifications
Body
Body Construction
Solidbody
Back Wood
Mahogany
Body Wood
Swamp Ash
Top Carve
Flat Top
Neck
Number of Frets
22
Scale Length
25.5"
Neck Wood
Maple
Neck Construction
Scarfed
Truss Rod
PRS Double-Acting
Neck Shape
Fiore
Neck Depth at the 1/2 Fret
27/32"
Neck Width at the Nut
1 21/32"
Neck Width at the Body
2 1/4"
Fretboard Wood
Maple
Fretboard Radius
10"
Fretboard Inlay
Birds
Headstock Logo
Signature, Decal
Neck/Body Assembly
Neck/Body Assembly Type
Bolt-On
Hardware
Bridge
2-Point Steel Tremolo
Tuners
Vintage-Style, Locking
Hardware Type
Nickel
Nut
Bone
Truss Rod Cover
"Fiore" (flower) Logo
Electronics
Treble Pickup
Fiore-H
Middle Pickup
Fiore-S
Bass Pickup
Fiore-S
Controls
Volume and Tone Control with 5-Way Blade Pickup Switch
Additional Info
Strings
PRS Signature 10-46
Tuning
Standard (6 String): E, A, D, G, B, E
Case
Premium Gig Bag
Controls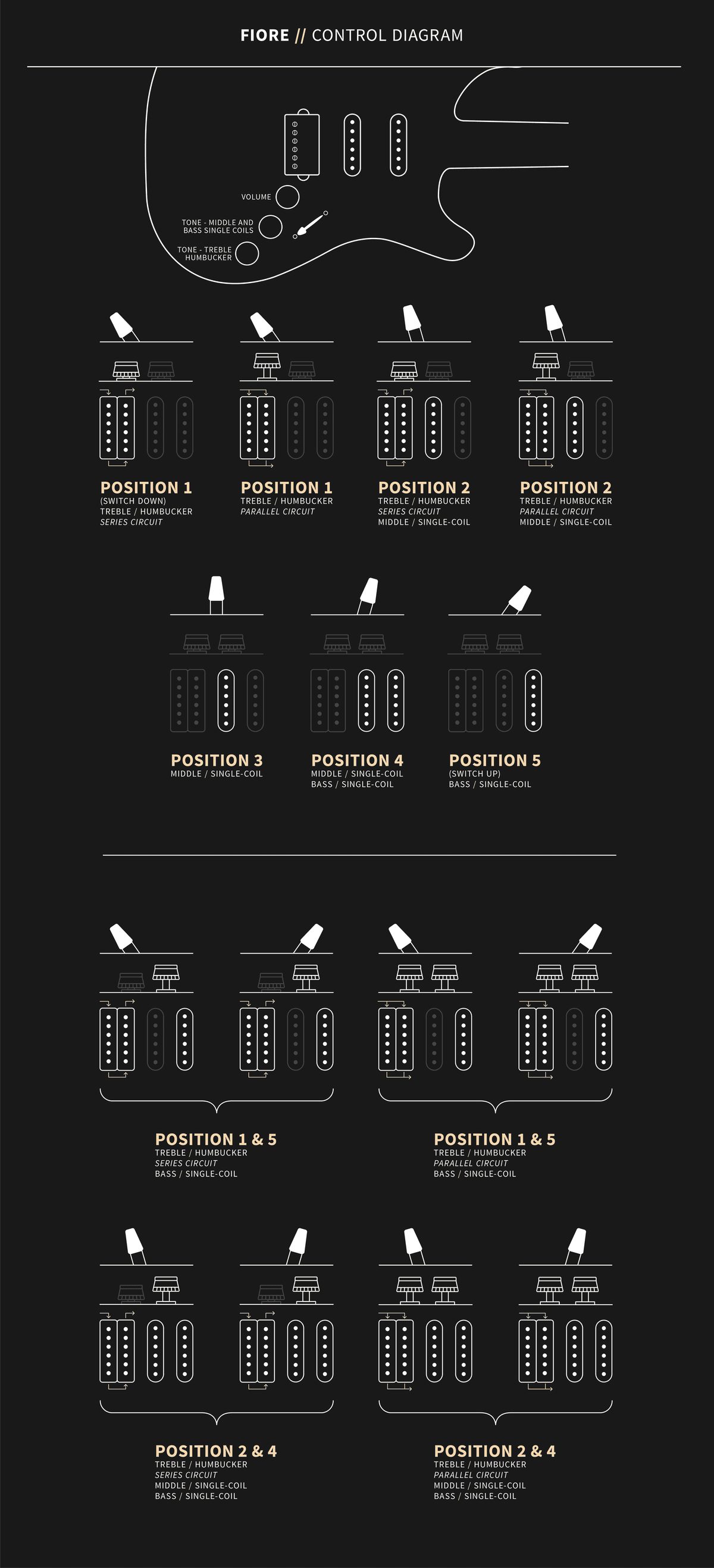 Fiore - Controls Description
PRS Fiore-H treble and PRS Fiore-S middle and bass pickups
Master volume and two push/pull tone knobs with a 5-way blade pickups switch
5-way blade pickup switch with both push-pulls down
Position 1 (down) - treble humbucker
Position 2 - treble humbucker with middle single coil
Position 3 - middle single coil
Position 4 - middle single coil with bass single coil
Position 5 (up) - bass single coil
Push/Pull Tone (center control): controls middle and bass single coils
Down: Standard 5-way setting with treble humbucker in series
Up: Activates outside pickups in position 1, 2, 4, 5
In positions 1 & 5, the treble & bass pickup are both on.
In positions 2 & 4, all three pickups are on.
In position 3, the middle pickup in on.
Push/Pull Tone (bottom control): controls the treble humbucker
Down: Standard 5-way setting with treble humbucker in series
Slightly more volume, mids, & bass
Up: Standard 5-way setting with treble humbucker in parallel
Scooped mids, slightly more treble