Private Stock Super Eagle
NOTE: This is a previous model year product. To view current products,
click here
.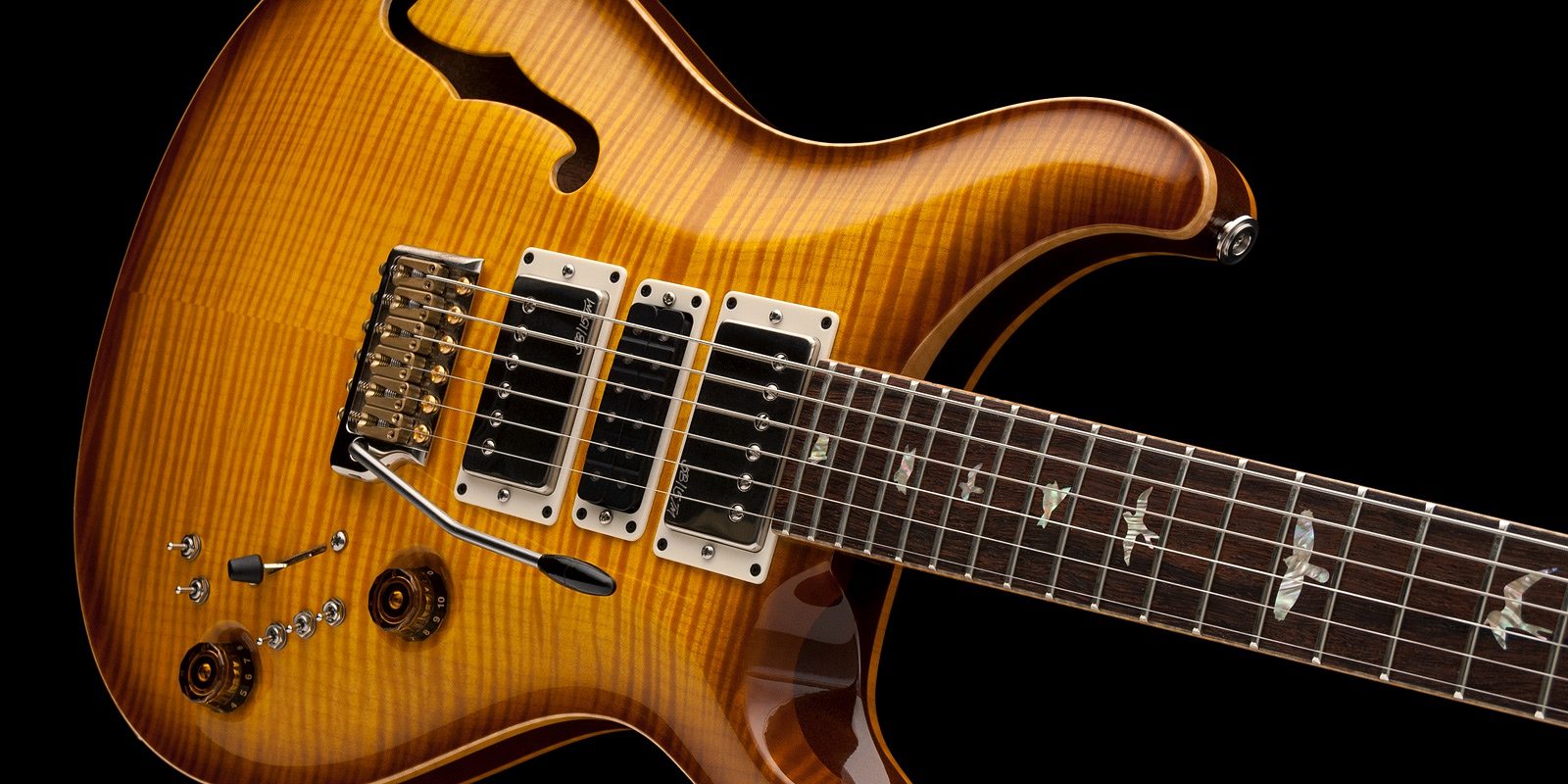 Transcendent Tone
The Private Stock "Super Eagle" is the result of a very close collaboration between Paul Reed Smith and Grammy-winning musician John Mayer. The goal of the partnership was to create a highly-sophisticated and unique instrument that at once reveres the history of guitar-making and guitar tone but pushes the boundaries of materials, design, and craftsmanship. The result is a truly new PRS instrument that embodies the PRS Private Stock culture of meticulous workmanship as well as Mayer's keen eye for playability, tone, and detail.
Some of the more distinctive and personalized specifications Mayer and Smith decided on for this special run of instruments include a longer (for PRS) scale length of 25.375", specially-wound 58/15 JM treble and bass pickups with a specially-wound Narrowfield JM pickup in the middle position (with three individual coil-tap mini-switches), a JCF Audio preamp with treble boost, as well as a hand-signed sticker in the f-hole of the guitar that was designed by Mayer's friend David Smith (who also designed the cover art for Mayer's 2012 Born and Raised album). The pickups deliver a bright, clear tone that has been heard in venues across the USA in Mayer's recent performances with Dead & Company.
But according to Mayer, this guitar won't stop with Dead & Company. "Paul and I worked very closely to create this guitar, and the result is an incredibly refined and elegant instrument. It has a completely new sound and spirit. It's been a joy to play and I'm excited to share that experience with other guitar players" - John Mayer.
The Private Stock Super Eagle is available for order from March 11, 2016 – April 1, 2016 only. PRS will also be capping production at 100 instruments. To order your Private Stock Super Eagle, please contact an Authorized PRS Dealer. Full specifications are below.
Specifications
Body
Top Wood
Curly Maple
Middle Wood
Mahogany
Back Wood
Private Stock Curly Maple
Neck
Number of Frets
24
Scale Length
25.375"
Neck Wood
Private Stock Curly Maple
Neck Construction
One-Piece
Neck Shape
Pattern
Fretboard Wood
Brazilian Rosewood with Curly Binding
Fretboard Inlay
Green Ripple Abalone "Old School" Birds and 12th Fret Violin Bird
Hardware
Bridge
PRS Patented Tremolo, Gen III
Tuners
Tweaked Phase III Locking Tuners with Ebony Buttons
Hardware Type
Nickel
Electronics
Controls
Volume & Tone w/ 5-Way Blade Switch; 3 Mini Switches For Individual Coil Taps; 2 Mini Switches (On/Off and Treble Boost) for JCF
Colors