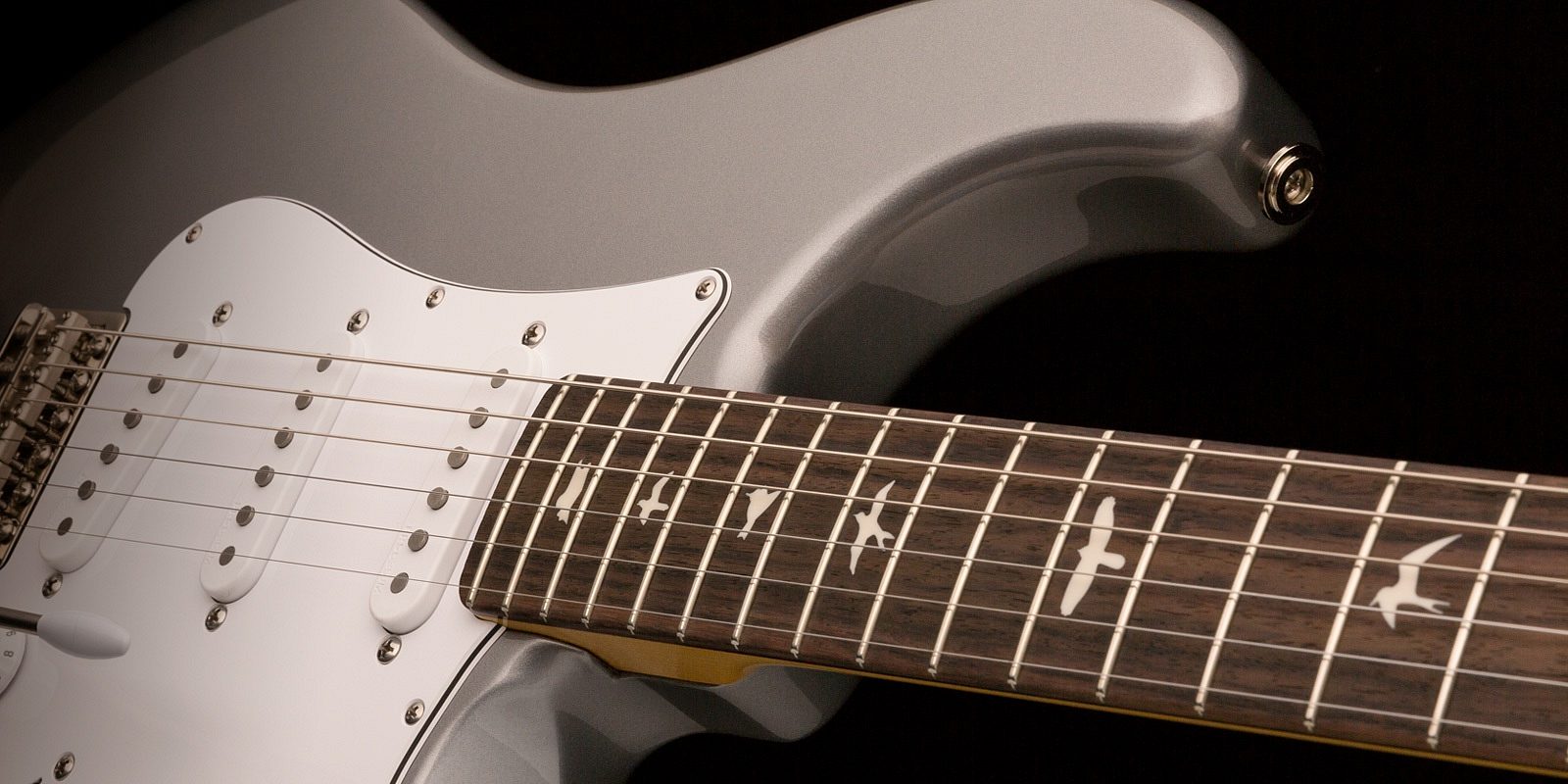 Reach For The Sky
"It's been a dream of mine for years to design a guitar that includes some of my favorite vintage specifications but with a modern spirit and aesthetic. After two years of study and refinement, the Silver Sky is my vision of what a reboot of the electric guitar should look and feel like." – John Mayer
The PRS Silver Sky is an idealized version of a vintage single-coil guitar where every detail adds up and sets this guitar apart from the pack and the past. The result of a close collaboration between Grammy Award-winning musician John Mayer and Paul Reed Smith, the Silver Sky is based off of years of development. Incorporating Mayer and Smith's favorite elements of 1963 and 1964 instruments with an eye toward modern references, the PRS Silver Sky delivers the warmth and familiarity of an old guitar with the finesse of a brand-new instrument.
Some of the more distinctive specifications include, the headstock shape, tuners, bridge, pickups, and neck and fretboard options. The headstock shape is based on PRS's trademark design, but inverted both to accommodate Mayer's playing style and also to keep a consistent length of string behind the nut, which makes staying in tune easier. The tuners are a traditional vintage-style, closed-back tuner, but with PRS's locking design. The steel tremolo takes the patented PRS design and incorporates Gen III knife-edge screws. Setup flush to the body in the neutral position so that the tremolo bridge only goes down in pitch, the bridge's increased contact with the body allows the guitar itself to be acoustically louder, which in turn improves the signal to noise ratio of the single-coil pickups. The 635JM single-coil pickups are very round and full, with a musical high end that is never "ice-picky" or brash.
The Silver Sky comes with the option of a rosewood or maple fretboard. The maple fretboard option comes with the original 635JM neck shape, while the rosewood fretboard option has been subtly modified in the shoulders to feel more "rounded" in your hand. Both neck shapes were designed by researching vintage instruments and Mayer test-driving guitars on stage to find what felt right. The fretboard radius on both options is 7.25".
Other high-quality specifications include a bone nut, a molded metal jack plate (curved to make plugging and unplugging a guitar cable hassle-free), retooled knobs, and PRS's double action truss rod (accessible from the front of the headstock for ease of use). PRS premium gig bag included.
Accolades
"Despite its departures from vintage design, Silver Sky captures the sounds of an early-'60s Stratocaster* as well as any modern instrument I've encountered. In fact, it sounds better than some originals."

*Stratocaster® and Strat® are registered trademarks of Fender Musical Instruments Corporation (Fender). Neither PRS nor the Silver Sky guitar is in any way affiliated, connected, or associated with Fender.
"[The PRS Silver Sky] offers up shockingly good vintage tones and feel, but modern production methods and PRS's legendary attention to detail have eliminated all the problems that go along with vintage instruments…including the monstrous price tag!"
- Guitar Interactive
"Tonally, it's big, clear, and airy when played clean, and fat and resonant with overdrive kicked on…There's so much to dig with this guitar, but most are sure to keep going back to that heel and amazing upper-fret reach, which changes everything."
- Vintage Guitar
"After playing the Silver Sky, it's easy to understand why it took so long to design and why John Mayer embraced this endeavor. For aficionados of the classic three single-coil pickup solidbody guitar design, this is truly one of the finest examples ever produced."
"A superb vintage and experience-informed three single-coil bolt-on. Build playability, sound and typical PRS attention to detail and quality."
"Bottom line: The Silver Sky absolutely delivers on the promise of being a damn-near-perfect version of this type of guitar…Paul Reed Smith doesn't mess around, and you've got to assume that he never would have made this guitar if he didn't think he could bring something inspiring to the party."
- Guitar Player
"This is not simply a Strat with a PRS headstock. As Paul Reed Smith pointed out in an interview, every aspect of the guitar was thoughtfully designed, or redesigned. But don't just take our word for it. Try one out. You may be just as impressed as we are."
"This guitar isn't designed to be just a collector's item that is hung on a wall to look at, it was built to be played and pushed to the limit."
- Maverick Magazine
"You can take as many modern or vintage twists as you want on an instrument. The real question is: does it work on stage or in the studio? Silver Sky works."
- Clay Cook, Zac Brown Band
"Man I am hooked on this Silver Sky. Can't stop playing it! The feel and dynamics are really next level."
- Eric Krasno
"The Silver Sky is the closest anyone has ever come to bettering Leo's original blueprint for the Stratocaster."