New Spring Accessories from PRS Guitars
Posted Apr 20, 2021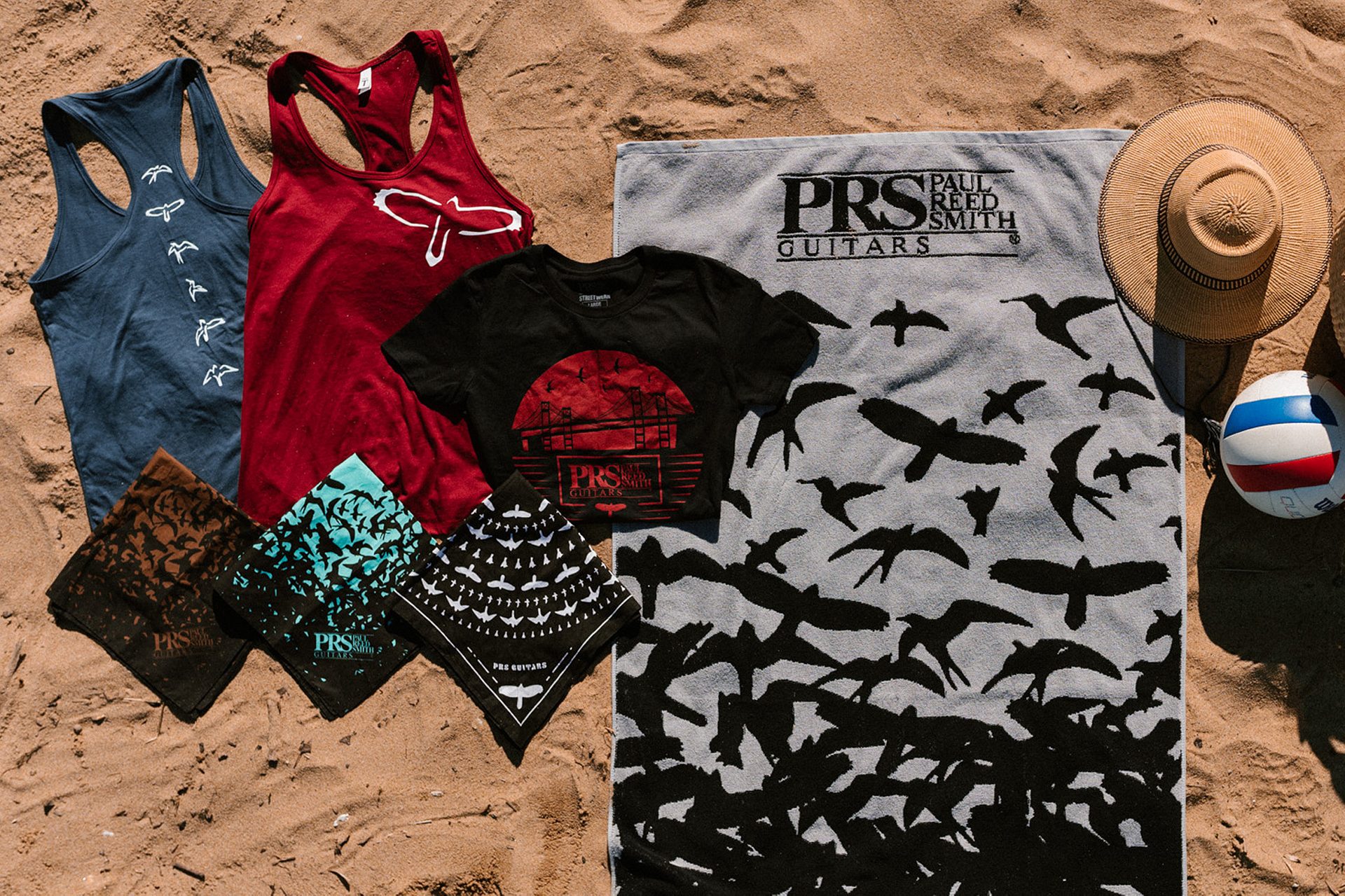 PRS Guitars has announced a new selection of spring accessories for players and fans to sport their PRS pride. The new offerings include bandanas, women's apparel, the new PRS Clip-On Tuner, and an exclusive beach towel.
Bandanas

The possibilities are endless with PRS's first bandana designs. The "Traditional" bandana features PRS's trademark birds in a geometric, radial pattern and comes in Black and Military Green. The "Bird Swarm" design is based on the popular PRS Private Stock Birds of a Feather fretboard inlay and comes in both Brown and Teal. Wear them as a headband, headscarf, face covering, neckband, pocket square, or tie it to your gig bag or guitar case for a personal touch.
Women's Apparel

PRS has also added two new women's shirts this spring: a Racerback Tank and Bay Bridge Tee. Designed with a scoop neck, the PRS racerback tank will keep players cool and comfy under stage lights or at outdoor gigs. Featuring PRS's trademark Cooper's Hawk on the breast and bird detail down the back, this tank comes in two colors: Slate Blue and Oxblood Red. The second design celebrates PRS's location at the foot of the Chesapeake Bay Bridge. The Chesapeake Bay Bridge serves as the connection between Maryland's Eastern and Western Shores, linking PRS from its current location to its origins in Annapolis, Maryland. Available in two colors, Red on Black and Yellow on Blue.
Tune Untethered – PRS Clip-On Tuner

Finally, the PRS Clip-On Tuner is finally shipping! On stage, in the studio, or on the road, the PRS tuner lets players tune untethered. It's easy to use, stunningly accurate, and features unique PRS designs like the 12th-fret Coopers Hawk bird. With the provided USB cable, recharging is simple without the need for batteries. The PRS Clip-on tuner tunes acoustic and electric guitars, bass, ukulele, and chromatic tuning. Other quality features include:
No slip proprietary rubber clip
Four tuning modes (2 needle and 2 strobe)
Strobe Tuner with .5cent Accuracy
Simple to use, and easy to transport
Vivid LCD display for any lighting environment
Beach Towel

Hit the beach or the pool this summer with the PRS Giant Beach Towel. Made with high-quality cotton and adorned with the "Birds of Feather" fretboard design, the PRS Beach Towel is plush and oversized for comfort at 31.49" x 70.86". Available exclusively from the PRS online store.
For more information or to shop PRS Accessories, contact your favorite Authorized PRS Dealer or visit the PRS West Street East Accessory Store at www.prsaccessories.com