PRS Guitars Announces New Straps, Apparel, and Lifestyle Accessories for Spring
Posted May 16, 2023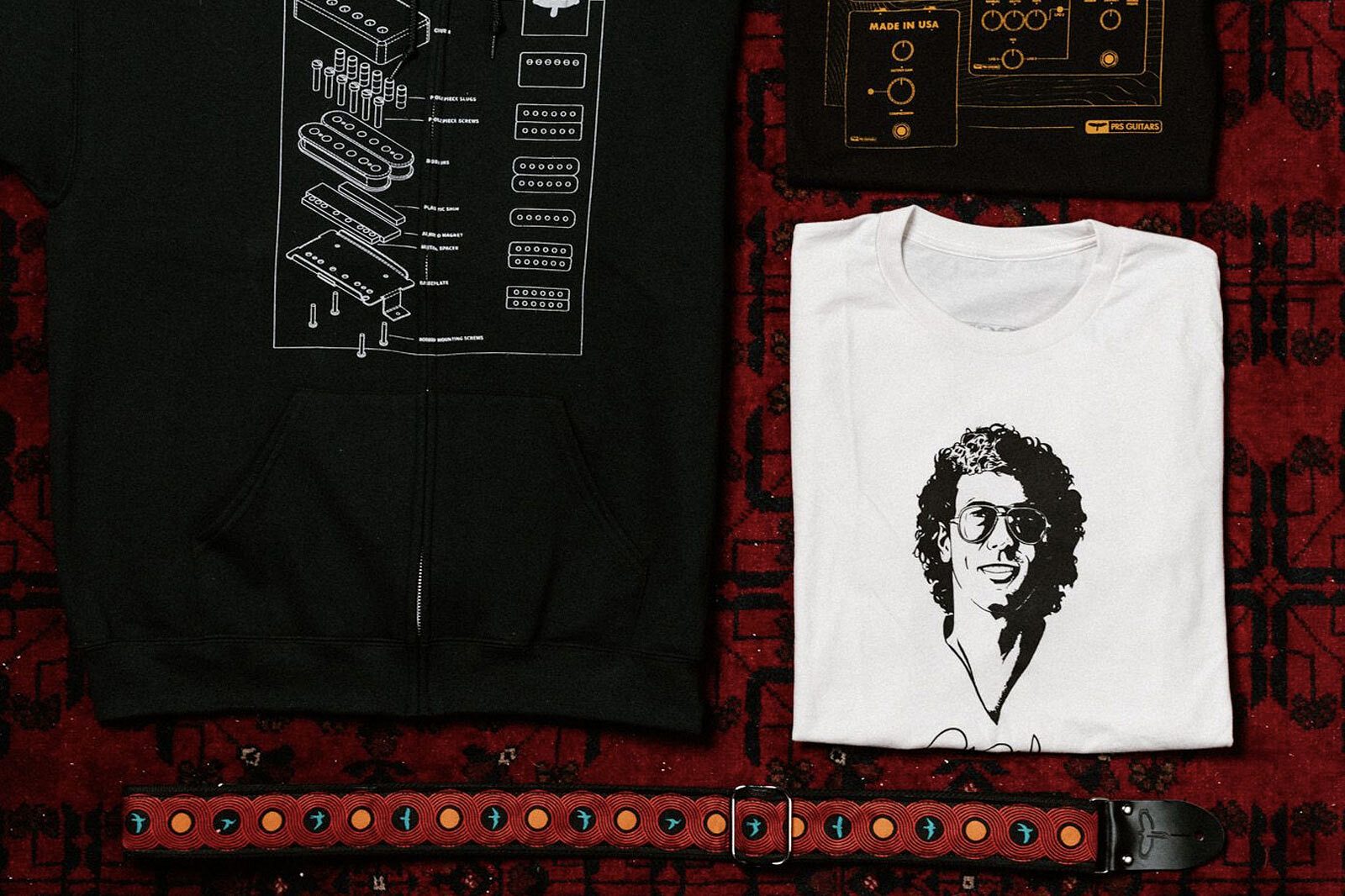 PRS Guitars Announces New Straps, Apparel, and Lifestyle Accessories for Spring
(STEVENSVILLE, MD) May 16, 2023 – PRS Guitars has announced new apparel and accessory offerings designed to make a statement and allow players and fans to show their PRS pride. The new accessories include eye-catching guitar straps with bespoke material designs, a new double-walled water bottle, and unique apparel gearheads will love.
Straps
PRS Guitars new selection of high-quality straps showcase the brand's iconic bird motif and offering ultimate comfort for players. Crafted from premium materials such as Italian garment leather and custom jacquard fabric, these straps come in various eye-catching designs and colors. The adjustable lengths cater to every player's needs, ensuring a perfect fit while enhancing the playing experience.
Lifestyle
PRS Guitars also brings a touch of fun to everyday life by introducing a reusable water bottle featuring their signature bird swarm design. This insulated water bottle is made from high-quality stainless steel and is perfect for staying hydrated on stage and off. The double-walled design keeps cold drinks cool and hot drinks hot for hours, and the practical carrying handle and sleek design make it an essential accessory for any PRS enthusiast.
Apparel
Finally, PRS has introduced an array of stylish and comfortable clothing options, including t-shirts and hoodies for both men and women. Made from soft and durable materials, these items boast unique PRS-inspired designs, including an exploded pickup tee, an iconic image of Paul Reed Smith himself, and designs to support the PRS DGT model and PRS Pedals. Available in various sizes and colors, these essentials let fans and musicians showcase their love for PRS Guitars in style.
Customers in the USA can shop PRS Guitars online West Street East Store here. Be sure to follow @prsguitars on socials to stay tuned in to all things PRS.
About PRS Guitars:
Paul Reed Smith Guitars is a leading manufacturer of high-quality instruments in Stevensville, Maryland, and has provided some of the world's most renowned musicians with instruments since 1985. The PRS team of highly skilled craftspeople designs and builds various musical instruments and gear for worldwide distribution, including electric, acoustic, and bass guitars, boutique-style guitar amplifiers, and effects pedals. The PRS SE Series complements the Maryland-made PRS line by offering highly approachable and more affordable electric, acoustic, and bass guitars. Carlos Santana, Mark Tremonti, John Mayer, Jimmy Herring, Myles Kennedy, Zach Myers, Mark Holcomb, Tim Pierce, Orianthi, David Grissom, Mark Lettieri, and Rhonda Smith are among the artists currently playing PRS instruments and/or amplifiers.
PRS West Street East Accessory Store: www.prsaccessories.com
PRS Guitars Info: www.prsguitars.com
PRS Guitars YouTube: www.youtube.com/@prsguitars
###
Images: https://www.dropbox.com/sh/h43ae06v4imgqry/AACkSKu3vHgNPVzPzurWhRgUa?dl=0
Suggested Social posts:
NEW PRS STRAPS
From vibrant modern designs to timeless leather, explore brand new PRS straps!
NEW PRS APPAREL
New apparel from PRS showcases pickup design, stomboxes, David Grissom's DGT signature guitar, and the Paul Reed Smith retro tee - all available now!
PRS GUITARS CONTACT:
Judy Schaefer, Director of Marketing | [email protected]
PRS GUITARS EUROPE CONTACT:
SJ Morgan, Marketing | [email protected]
PRS GUITARS JAPAN CONTACT:
Jiro Koyama, | [email protected]