PRS Guitars Joins the Giving Tuesday Movement to Support Musicians
Posted Nov 30, 2020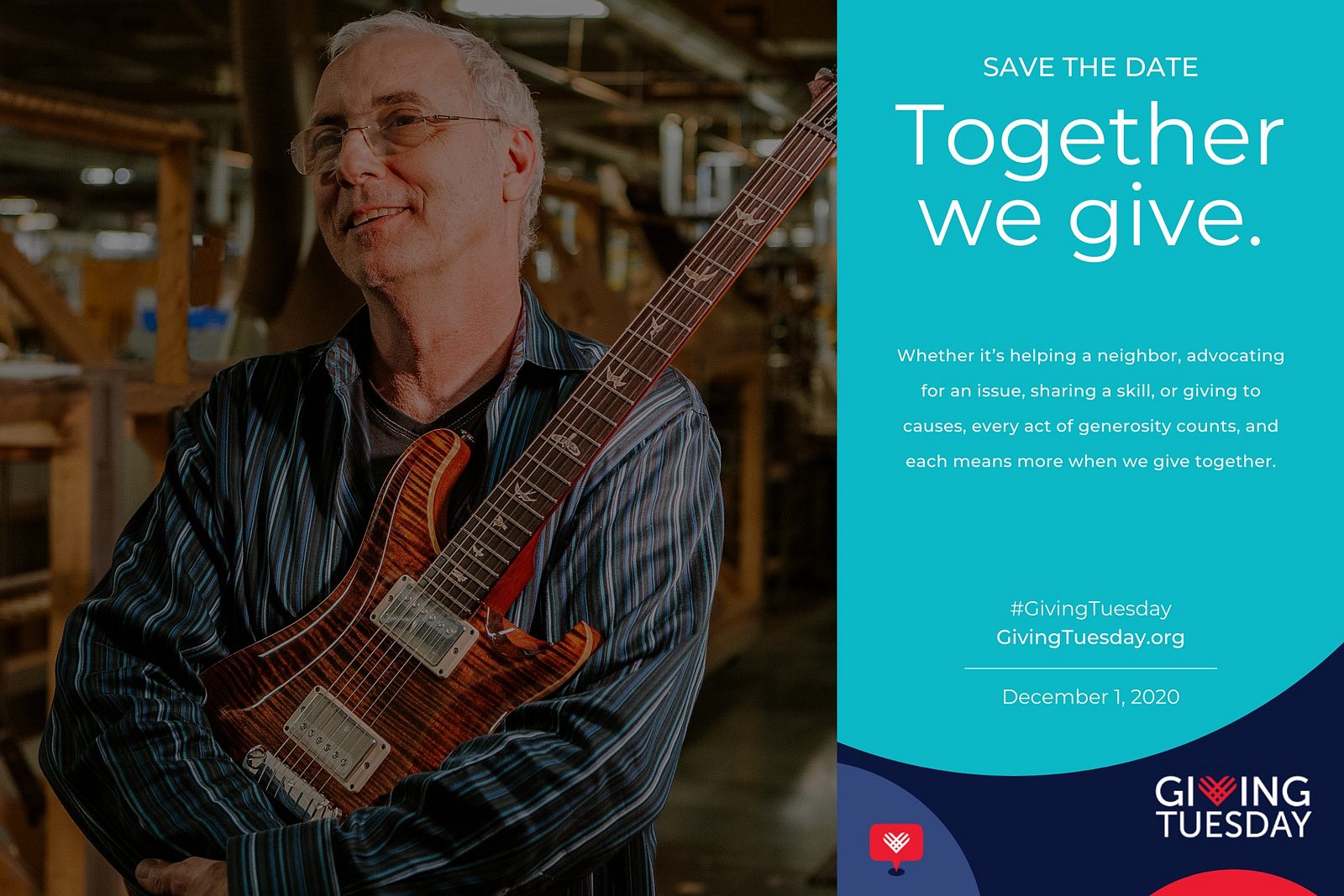 PRS Guitars is proud to join the "Giving Tuesday" movement to support gig-economy musicians in their Maryland backyard as well as award-winning musicians and artists who have been uniquely affected by COVID-19. Giving Tuesday, which takes place on December 1st, is a collective effort to transform how people take part in the holiday season. Just as Black Friday and Cyber Monday have become synonymous with holiday shopping, the goal of Giving Tuesday is to be a national day of giving.
2020 and the novel coronavirus have made a huge impact on life in almost every sector, including the earning potential of musicians. The loss of festivals, tours, and most live music has put a terrible strain on musicians and the music industry at large. For Giving Tuesday, PRS has chosen two organizations that directly support musicians: MusiCares®, a leading music charity that acts as a safety-net for music people in times of need, and the local Annapolis Musicians Fund for Musicians (AM-FM.org) that works to provide temporary financial relief to Annapolis-area musicians in need. PRS gifted each organization with a substantial cash donation and, where needed, instruments for additional fundraising efforts.
"While our donations may only scratch the surface for musicians in need, the act of giving together with a heartfelt request for others to do the same will hopefully help directly influence the quality of life for as many as possible," stated PRS Managing General Partner, Paul Reed Smith. "Please join us in giving to these worthy causes if you can."
These PRS Giving Tuesday donations are in addition to the annual support that the 35-year-old guitar manufacturer has provided to their flagship charity, the John's Hopkins Kimmel Cancer Center for the last twenty years. Since 2000, PRS Guitars has raised more than $4 million for the Living with Cancer Resource Program at the Johns Hopkins Sidney Kimmel Comprehensive Cancer Center in Baltimore MD. The Living with Cancer Resource Program offers supportive care programming and education to cancer patients and families at Johns Hopkins, all free of charge.
More about MusiCares, AMFM and PRS Guitars below:
About PRS Guitars:
Paul Reed Smith Guitars is a leading manufacturer of high-quality instruments in Stevensville, Maryland and has provided some of the world's most renowned musicians with instruments since 1985. The PRS team of highly skilled craftspeople design and build a wide variety of musical instruments and gear for worldwide distribution, including electric, acoustic, and bass guitars as well as boutique-style guitar amplifiers. The PRS SE line of products complements the Maryland-made PRS line by offering highly approachable and more affordable electric, acoustic, and bass guitars. Carlos Santana, Neal Schon, John McLaughlin, John Mayer, Jimmy Herring, Tim Pierce, Orianthi, Mark Tremonti, Zach Myers of Shinedown, Brian Kelley of Florida Georgia Line, David Grissom, Martin Simpson, and Tony McManus are among the artists currently playing PRS instruments and/or amplifiers.
PRS Guitars Info: www.prsguitars.com
About MusiCares:
MusiCares helps the humans behind music because music gives so much to the world. Offering preventive, emergency, and recovery programs, MusiCares is a safety net supporting the health and welfare of the music community. Founded by the Recording Academy in 1989 as a U.S. based 501(c)(3) charity, MusiCares safeguards the well-being of all music people through direct financial grant programs, networks of support resources, and tailored crisis relief efforts.
For more information, please visit: www.musicares.org
About AMFM:
Annapolis Musicians Fund for Musicians (AMFM) is a non-profit organization created in 2006 to provide temporary financial relief to professional Annapolis musicians who cannot work due to sickness, injury, or any other circumstance leaving them unable to perform. This fund acts as an emergency relief fund for lost income. Since its founding, AMFM has grown to provide additional benefits to our local music community, including catastrophic relief and funding youth music programs in the form of scholarships and private lessons.
To learn more and to donate, please visit: www.am-fm.org