PRS Guitars Releases 2023 New Models and Specification Updates
Posted Jan 10, 2023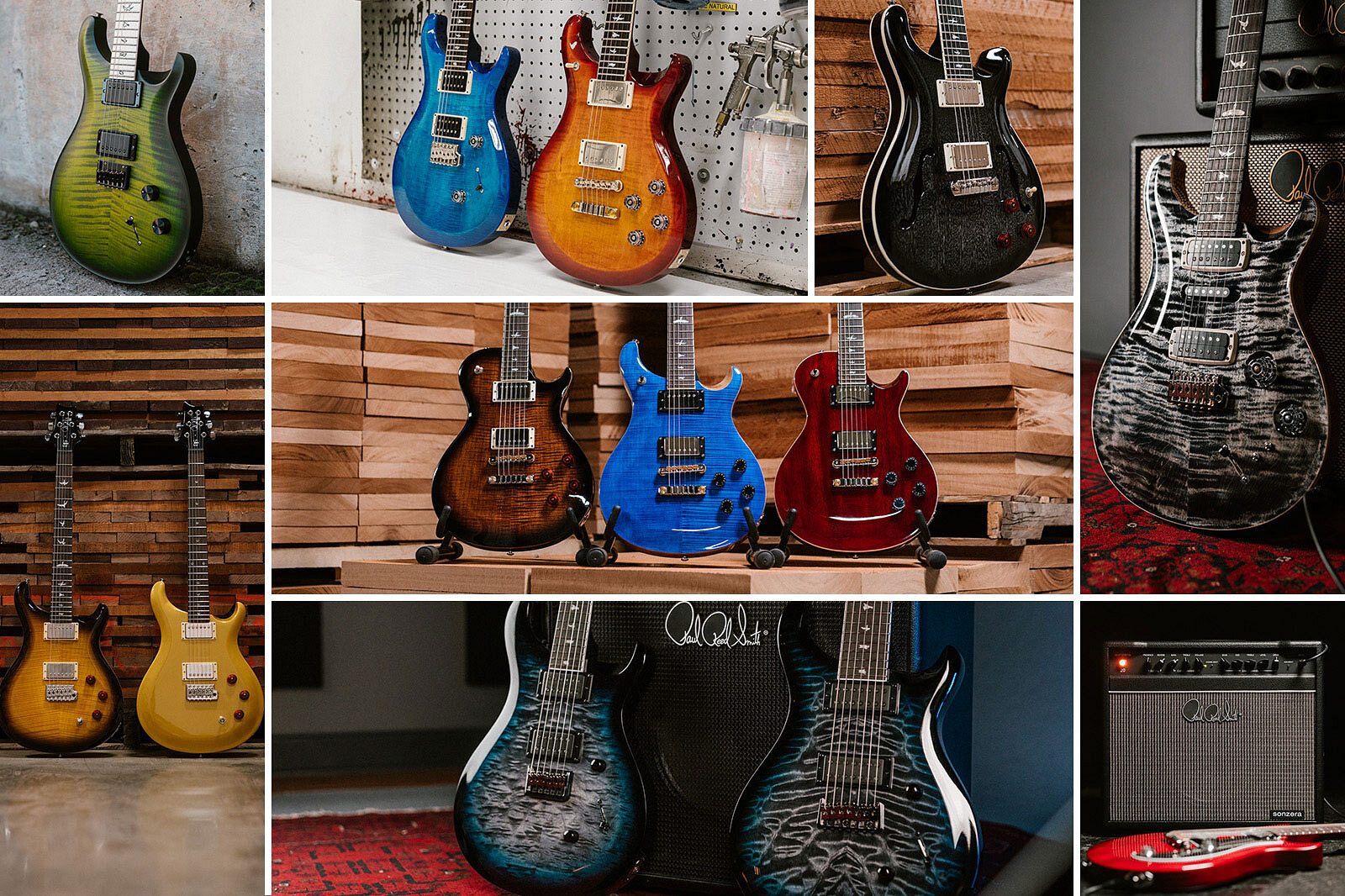 PRS Guitars Releases 2023 New Models and Specification Updates
(STEVENSVILLE, MD) January 10, 2023 – PRS Guitars' 2023 line up is here, bringing with it several exciting new models and updated specifications. Today's announcements are focused across the PRS Guitars' line up from Core to the SE Series and represent both electric guitars as well as a new amplifier.
The PRS Modern Eagle V Officially Joins the Core Lineup
The first Modern Eagle instrument was introduced in 2004 and represented the pinnacle of the Core manufacturing at that time. Previously only offered via limited runs, the PRS Modern Eagle V now continues that tradition in the core lineup with its innovative pickup and electronics system offering a vast array of highly usable, musical tones in one guitar. The Modern Eagle V utilizes a hum/single/hum (five-coil) pickup layout and features a 5-way blade switch that selects the pickups in intuitive groupings: treble, treble and middle, middle, middle and bass, and bass. There is a single volume and a push/pull tone control that activates both humbuckers when engaged, which allows players to access all three pickups simultaneously. Finally, the mini toggles allow players to individually separate the pickup coils, turning the humbuckers into true single coils. This electronics design provides a whole set of classic and new tones.
"Modern Eagle models have always been built to stand up to history while celebrating tonewoods and the discovery of new tones. The Modern Eagle V is a sophisticated instrument not only in its craftsmanship but in its electronic and mechanical design," said Paul Reed Smith. "We've refined the pickup tones and are pleased to now add it to the Core lineup."
Vintage-Inspired McCarty and DGT Models Come to the PRS SE Series
For 2023, PRS is introducing four new models in the SE Series: the PRS SE McCarty 594, SE McCarty 594 Singlecut, SE McCarty 594 Singlecut Standard, and the SE DGT (David Grissom Trem), and it's no accident that these models are coming to the SE Series at the same time. The original McCarty design (released in 1994) was highly influenced by Grissom and was designed to infuse vintage specs in a reliable, modern guitar. In 2007, Grissom's signature DGT model was released, which added a tremolo bridge, tweaked pickups, and a refined neck shape to the McCarty platform, creating a guitar that rivals Grissom's personal vintage favorites. PRS recently released a three-part video series documenting the development of the SE DGT model, which can be seen on the PRS Guitars YouTube channel. These introductions continue the SE's recent promise to bring more PRS DNA and value into the more affordable line.
"I didn't just rubber stamp this. This guitar is something I have been very involved in and am really proud of. The SE Series is lightyears ahead of anything I could get my hands on when I started playing - it's amazing how far the quality has come – and I am proud to be able to offer this guitar to more people." - David Grissom
Dustie Waring Limited Edition CE and Artist Model Updates
Dustie Waring's signature PRS starts with the CE 24 platform and includes a satin-finished maple neck, maple fretboard, a slightly modified Pattern Thin neck carve, and (on this limited edition version) a hardtail bridge. The Between the Buried and Me guitarist finishes the model with his signature Mojotone Dustie Waring Gen 2 Tomahawk pickups that offer articulate, clear, high-output sounds.
"I tracked a whole record with this guitar. It performed amazingly and just had a different flavor from my Floyd model. There's way more body – it definitely has a full sound. I'm able to use it for 99% of my session work in Nashville," said Dustie Waring, Between the Buried and Me.
Periphery's Mark Holcomb signature SE is also being updated with a new color – Holcomb Blue Burst – and all-new signature Seymour Duncan pickups. The new "Scarlet & Scourge" treble and bass pickups were designed to work with modeling amps in mind and bring full tone with slightly less drive, offering more articulation than ever. Zach Myers of Shinedown's signature model is also getting a new spec, updating the scale length from 24.5" to PRS's 24.594" scale length.
10th Anniversary of the S2 Series
The PRS S2 Series began in 2013 as a way to offer the fit, feel, and attention to detail of PRS craftsmanship in a fresh, straightforward design. Meaning "Stevensville 2," the S2 Series was named for a second manufacturing line that was created inside the PRS Stevensville, Maryland shop that blended new manufacturing techniques with practiced quality control and workmanship to create instruments at a new price point for players. Over the last ten years, the S2 Series has grown from three to more than a dozen models and has become a powerful part of PRS Guitars. Today, the S2 Series is more integrated into a single production line with PRS Core and Bolt-On instruments.
To celebrate the 10th Anniversary of the S2 Series, PRS is offering two celebratory models: the 10th Anniversary PRS S2 Custom 24 and 10th Anniversary PRS S2 McCarty 594 Limited Edition guitars. These special models will retain the guitar's standard specs and add a Cuban mahogany neck, mother of pearl bird inlays, and – most notably – USA-made PRS 85/15 and 58/15 LT pickups and electronics (respectively). PRS has been on an inspiring journey studying pickup tone and design for many years now. These pickups have been fine-tuned using their TCI process for rich, clear, and balanced tone. Only 2,000 total 10th Anniversary S2 Series instruments will be made.
The PRS Sonzera Returns
Returning to the lineup after a brief reprieve, the PRS Sonzera is a moderately powered 20 watt 1x12 combo amplifier. The Sonzera offers mid-1960's American-style tone with two independently controlled, footswitchable channels designed for maximum versatility. The Sonzera's gain channel can be set as a boosted clean channel or with heavy distortion, and the spring reverb and built-in effects loop allow players to easily expand their tonal palette. This is a distinct amp in the PRS line up, which also boasts the Archon, HDRX, DG Custom, and MT-15 amplifiers.
"I am very happy to re-release the new Sonzera 20 combo with improved construction techniques, refined voicing, and fresh cosmetics. Their design inspiration draws from the purity and tonal beauty of vintage American reverb amps of the 60s. The two-channel design is currently unique to the PRS lineup in that the Gain channel is simply the Clean channel with additional gain stages and its own tone stack inserted for discreet lead voicing control," said PRS Amp Designer, Doug Sewell. "The 12 to 35-watt classic American reverb amps were very inspirational to me as a beginning amp designer in Texas. I consider the Sonzera amps an homage to those early days, and it was especially satisfying and nostalgic to be a part of their development and production."
For full specifications, video demos, and more, visit http://prsguitars.com/ and follow @prsguitars on Instagram, Facebook, and Twitter to stay in the conversation.
About PRS Guitars:
Paul Reed Smith Guitars is a leading manufacturer of high-quality instruments in Stevensville, Maryland and has provided some of the world's most renowned musicians with instruments since 1985. The PRS team of highly skilled craftspeople design and build a wide variety of musical instruments and gear for worldwide distribution, including electric, acoustic, and bass guitars as well as boutique-style guitar amplifiers and effects pedals. The PRS SE Series complements the Maryland-made PRS line by offering highly approachable and more affordable electric, acoustic, and bass guitars. Carlos Santana, Mark Tremonti, John Mayer, Jimmy Herring, Myles Kennedy, Zach Myers, Mark Holcomb, Tim Pierce, Orianthi, David Grissom, Mark Lettieri, and Rhonda Smith are among the artists currently playing PRS instruments and/or amplifiers.
PRS Guitars Info: www.prsguitars.com
###
Images:
Modern Eagle V demo: https://youtu.be/H-bcmr9tQbg
SE McCarty 594 demo: https://youtu.be/W-76t-IIrxk
SE McCarty 594 Singlecut demo: https://youtu.be/SEUuFJma5MM
SE McCarty 594 Singlecut Standard demo: https://youtu.be/UB3_3s2Yp04
SE DGT demo: https://youtu.be/VxrxLRWhbF8
Dustie Waring Signature demo: https://youtu.be/gO9MqM4-wZo
Mark Holcomb Signature demo: https://youtu.be/C3l6QOWtDsc
Mark Holcomb SVN Signature demo: https://youtu.be/CDNi4nDm-DY
Zach Myers Signature: https://youtu.be/ohrkWaJtnIE
10th Anniversary S2 Custom 24 demo: https://youtu.be/BjVuGJuOTFI
10th Anniversary S2 McCarty 594 demo: https://youtu.be/SLHEwe7MVZ4
Sonzera 20 demo: https://youtu.be/z3wASUlUea4
Videos: https://www.youtube.com/prsguitars
Modern Eagle V demo: https://youtu.be/H-bcmr9tQbg
SE McCarty 594 demo: https://youtu.be/W-76t-IIrxk
SE McCarty 594 Singlecut demo: https://youtu.be/SEUuFJma5MM
SE McCarty 594 Singlecut Standard demo: https://youtu.be/UB3_3s2Yp04
SE DGT demo: https://youtu.be/VxrxLRWhbF8
Dustie Waring Signature demo: https://youtu.be/gO9MqM4-wZo
Mark Holcomb Signature demo: https://youtu.be/C3l6QOWtDsc
Mark Holcomb SVN Signature demo: https://youtu.be/CDNi4nDm-DY
Zach Myers Signature: https://youtu.be/ohrkWaJtnIE
10th Anniversary S2 Custom 24 demo: https://youtu.be/BjVuGJuOTFI
10th Anniversary S2 McCarty 594 demo: https://youtu.be/SLHEwe7MVZ4
Sonzera 20 demo: https://youtu.be/z3wASUlUea4
PRS GUITARS CONTACT:
Judy Schaefer, Director of Marketing | [email protected]
PRS GUITARS EUROPE CONTACT:
SJ Morgan, Marketing | [email protected]
PRS GUITARS JAPAN CONTACT:
Jiro Koyama, | [email protected]